Meet Dr. Nidhi Dhama
Dr. Nidhi Dhama is a Gold medalist in Bachelors of Homoeopathic Medicine and Surgery (BHMS), from one of the top-ranking homeopathic colleges in India. After her masters in Pediatrics (Hom.), she gathered rich experience in treating all kinds of acute and chronic illnesses over the last 15 years. An avid sportsperson from her childhood; she has become a firm believer in the holistic approach, especially as she embraced motherhood. Keeping in line with her philosophy, she is always expanding her knowledge base and learning across disciplines to best integrate their practices in her spiritual journey. She is certified in the use of singing bowls from the International Academy of Sound Healing. What started as a supplement for her patients' spiritual well being has now become her passion. She regularly takes personal / group meditation and sound healing sessions in India and Dubai. 
Get to know her:
1. How are you keeping the food healthy at home/ managing the health quotient during this lockdown?
I was diagnosed with an autoimmune disorder after my daughter was born, and ever since I have become much more health-conscious. 
I plan the meals in advance and also batch cook twice a week so we are not looking for junk when hunger strikes at odd hours. I make sure there are always healthy options available for snacking: fresh whole fruits/ homemade laddoos/ homemade cakes and cupcakes ( I stopped using processed sugar a couple of years ago so its only jaggery/ dates/ date syrup/ bananas/ honey as sweeteners) nuts and dry fruits (my daughter's first meal consists of a glass of milk, two walnuts and one apricot/date) and smoothies and shakes. 
I make sure that we have some immunity-boosting foods on a daily basis: fresh orange juice and ample water to maintain hydration; Ginger, tulsi, and turmeric tea; fresh berries and citrus fruits; millet based meals.
And not to forget the daily dose of vitamin D – so a walk in the garden or reading while sunbathing in the balcony.
2. How are you keeping stress at bay  (now that the whole family is home)?
In the current anxiety-provoking times, it's really important for us to take care of our mental, physical, and spiritual well being. The first thing that we did as a family was to validate the current situation and accept it as the new normal. We have learned to be more self-compassionate and patient with each other. Me and my family focus on the below to keep ourselves positive and calm:
We exercise and meditate every day. We have a bedtime ritual of saying a prayer and chanting om with our five-year-old daughter and then taking turns to talk about three things that made us happy that day. I also keep a gratitude journal to celebrate my blessings every day. It's something I have been doing for quite some time now and it helps me stay grounded.
I like to plan my day and stick to the daily routine as much as possible.
I and my husband have become more mindful of what news we consume. We try and focus on the positive things and decrease the amount of news we are consuming, especially before going to bed.
We are all sleeping a minimum of 7-8 hours and follow a strict bedtime routine for our 5-year-old.
Keeping up the social connection keeps us happy. We make time for regular zoom calls with parents, cousins, and friends in different parts of the world. And if we are feeling scared or anxious, we always talk it out.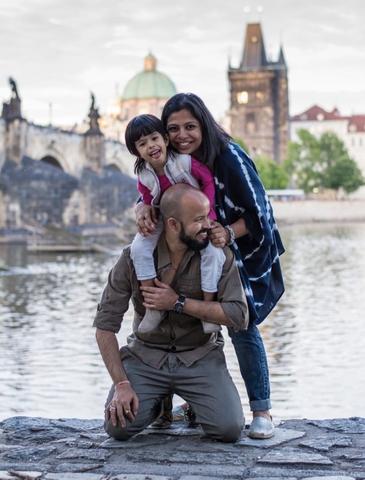 3. If you could change one thing about your life what would it be and why?
I would love to reverse my Hashimoto's Thyroiditis, get all my health and energy back, and feel like a 20-year-old again.
4. What's the easiest thing about being a mother?
The easiest thing about being a mother is that I can be myself! My little human will not judge me – there's only unconditional love and total trust.
5. Describe motherhood in just one word!
Roller coaster!