Recipe and picture courtesy: Aditya Ghosh
These bars are made from one of my favorite brands i.e. Slurrp Farm. They are a combination of Slurrp Farm Millets & Oats Porridge, peanut butter, unsalted almonds bound together with Slurrp Farm Banana Powder or honey. The result is a snack for kids bar that does just what a granola bar should do: sustain you. It can be stored in a sealed container at room temperature for up to a week. It's the sort of portable goodness to ply into a child's hand as they play or a perfect choice for a pre-workout snack or you can enjoy it like a dessert. This homemade snack recipe for kids is a are pure bliss.
The first thing that you should know about this homemade snack recipe for kids is that it is ultra-versatile. The base is peanut butter, oatmeal, and honey, and from there, how you customize the no-bake bars is up to your preferences.
The bar has loads of fiber, calcium, magnesium, and a bunch of other good-for-you nutrients and a perfect evening snack for kids.
This homemade snack recipe for kids is my favorite and is seriously so easy. You'll be super happy to have these in the fridge when a mid-day chocolate craving hits. This snack for kids will satisfy even the pickiest of eaters. Not only will the kids love eating them but it will also reap the benefit of healthy nutrients.
Peanut and Cocoa Bars
Ingredients: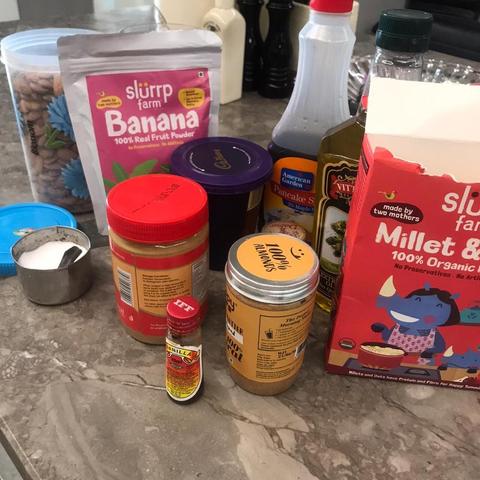 1. 2 ½ Cups of Slurrp Farm Millet and Oats Porridge
2. ¾ Cup peanut butter
3. ½ Cup of homey or Slurrp Farm Banana Powder
4. 5 Pieces of almonds, finely grated or crushed
5. ½ Cup of cocoa powder
Method:
1. Line a 9×9" square pan with parchment paper. Set aside.
2. In a large mixing bowl, stir together the millet and oats porridge, crushed almonds. 
3. To a small saucepan, add peanut butter, cocoa powder, and honey or Slurrp Farm Banana Powder. Heat over medium-low heat until smooth.
4. Pour the peanut butter mixture over the dry oats and almond mixture and stir until all of the dry ingredients are coated.
5. Pour the mixture into prepared pan and press into an even layer. Cover and refrigerate for 1 hour. Cut into 12 bars. 
Did you snack smart today? If yes, tell us what did you cook and tag @SlurrpFarm.