By Meghana Narayana
Oat milk has really taken the world by storm over the last couple of years and surged in popularity. Which is no surprise given that this is one of the creamiest milk with just the right amount of sweetness? Want to make creamy oat milk with organic oats powder at home with just 2 ingredients, 1 blender, and in 5 minutes! Let us show you how!
Oat milk made with organic oats powder is an excellent source of many vitamins and minerals, as well as fiber. It would be interesting to know that oat milk — especially when fortified — is a rich source of nutrients. It has more calories, carbs, and fiber than almond, soy, and cow's milk but less protein than soy and dairy milk. 
Oat milk is light and tasty, but it's hard to find store-bought oat milk that is not full of sugar and chemicals.  By making it at home, you'll make sure that your drink contains only natural and healthy ingredients, and it'll also be much more affordable!
Well-sealed in the refrigerator, oat milk made with organic oats powder should last about 5 days.
Oat powder milk:
Ingredients: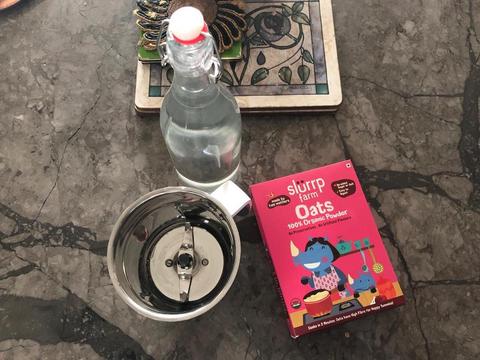 1. One cup Slurrp Farm Oats Powder
2. 4 Cups milk or water 
3. Slurrp Farm Nut powder or crushed almonds
Method:
1. Add one cup of Slurrp Farm Oats and 4 cups of water or milk to a high-speed blender and blend on high for 30-45 seconds.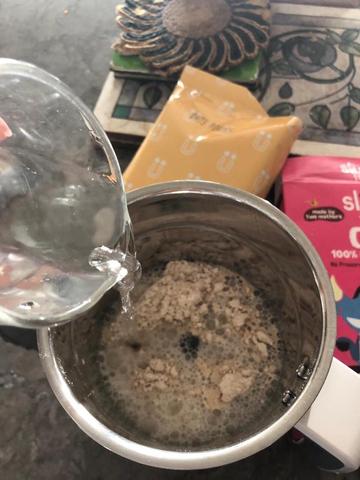 PS: You can also optionally add some salt, a date, vanilla extract, almonds, cacao powder, or berries when blending for added flavor!
The resulting milk-water is smooth, creamy, very slightly sweet, and has a fuller texture. And you won't believe the number of times this oat powder milk recipe has saved me when I have been about to make something and realized I  have no milk in the fridge is unbelievable. Oat powder milk is a replacement but makes as a nice milkshake base. If made with water it is good for kids who are lactose intolerant.