by Vaishali Sudan
Stuck at home, looking for healthy and yummy recipes? Tired of making the same old daal roti? Tired of baking breads and cakes? Want to try a spicy dish?
Wondering what we are making today?
How about  Bisi Bele Bhaat, but we are using nutritious and sustainable super grain- foxtail millet.  
What is Bisis Bele Bhaat?
It is a traditional South Indian rice-based dish with origins in the state of Karnataka, India. Bisi Bele Bhaat, literally translates to 'hot lentil rice dish' in the Kannada language (spoken in Karnataka). It sure is a wholesome meal. Why? Well! It's because this recipe is cooked using mixed vegetable sambar, cooked rice, and lentils. It is generally mild to very spicy. 
For kids, you can customize it by adding chilies to (only) your serving, as an add-on. 
Why Foxtail Millets?
We can't stress enough how important it is to eat foods rich in essential nutrients. Foxtail Millet is one such (super)grain that you must include in not only your little one but the entire family.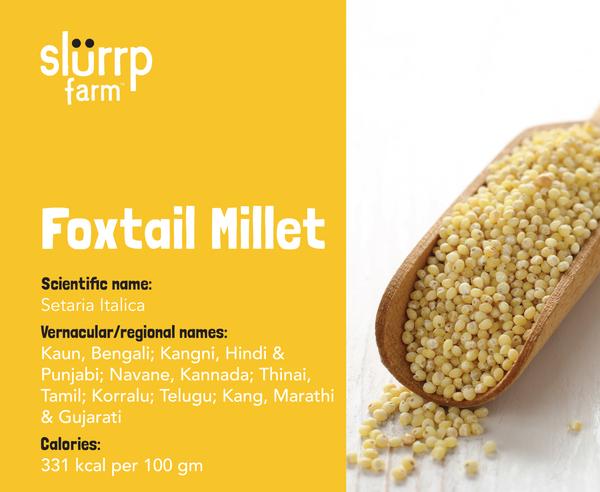 Ingredients:
(i) For masala powder
1. Coriander seeds
2. Red dry chilies (optional)
3. Chana dal
4. Fenugreek seeds
(ii) For Sambar:
1. One cup cooked toor dal (what is toor dal? Details are given below)
2. One lemon
3. One tamarind
4. 5-7 Small onion
5. 2 Cups mixed vegetables (carrot, drumstick, beans, and potato)
6. 2 Tsp oil
7. 10 Curry leaves
8. 1/4 Tsp mustard seeds
9. 1/4 Tsp turmeric powder
10. 2 Broken red chilies
11. Asafoetida- a generous pinch
12. Salt to taste
13. One tsp coriander leaves
14. One cup foxtail millet or Slurrp Farm Sprouted Ragi Powder 
15. 2 Cups water
17. 2 Tsp coriander leaves
Preparation Method:
1. Add tamarind water, vegetables, salt, and sambar spice powder in a pressure cooker and cook till two whistles.
2. Cook the foxtail millet, toor dal, turmeric powder, salt, and water in another pressure cooker until two whistles.
3. For seasoning, saute mustard seeds, cumin seeds, red chili, curry leaves in ghee and keep aside.
2. Add the spicy vegetable tamarind curry to the cooked millets and mix together till a mishmash. 
3. Add the seasoning and transfer the Foxtail Millet Bisi Bele Bhaat to a serving bowl. Sprinkle the chopped coriander and serve hot.
Serve it along with tomato-onion raita to make a delicious combo.
What is Toor Dal?
The pigeon pea, also known as pigeonpea, red gram, tur is a perennial legume from the family Fabaceae. Toor dal is high in fiber, provides protein, and great for health.
This recipe has been extracted from the IIMR Recipe Book. It is a part of the initiative "Millet Recipes – A Healthy Choice" put together by ICAR- Indian Institue of Millets Research. The main force behind this program includes B Dayakar Rao, Vishala AD, GD Arlene Christina, and VA Tonapi.