By Kamakshi Ganesh
I love pancakes and given the choice, I would eat them not just for breakfast but lunch and dinner too. But, maple or chocolate syrup can get a bit too boring! For kids, fitness freaks, and pancake aficionados here, some good news. There are a number of recipes to make healthy pancakes at home or easier than that, you can just opt for healthy millet-based pancakes. However, after you have read this blog, you'd be happy to try these 10 unusual pancake topping ideas.
Now make your breakfast fun and exciting!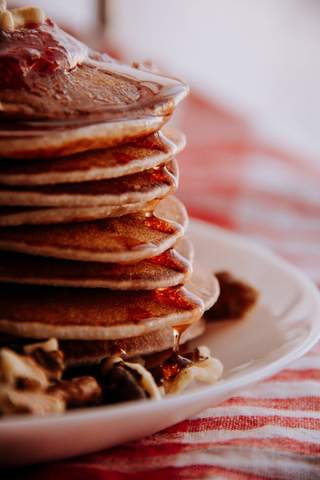 Top your fav millet pancakes with some delicious and healthy options I have suggested and you have the yummiest, healthy breakfast recipe for kids. Not just that, for yourself a not-so-cheat meal you can enjoy completely guilt-free.
Here we have rounded up 10 yummy sweet and savory pancake topping ideas for your little and loved ones:
1. Mango and coconut:
Coconut pancakes are super tasty and simple to make. Just add coconut milk to your pancake batter in place of milk or buttermilk. After making your pancakes, top them up with sliced fresh mangoes and you have yourself a super fresh and sweet pancake topping. 
2. Stewed apple and cinnamon:
Apples and cinnamon work great together in most dishes. The tart and sweet flavor of apples contrast beautifully with the earthy spiciness of cinnamon. Pancakes are no exception to this fantastic flavor pairing. Stewed apples are simply apples that have been softened in boiling water with sugar. Top these up with a generous sprinkle of cinnamon and you have tasty chocolate pancakes that are great for the adults and kids in the house.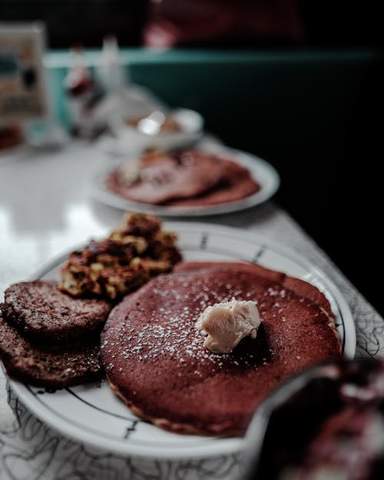 3. Peanut butter and banana
This is a super simple yet absolutely delicious pancake topping. A generous schmear of peanut butter on your pancakes topped with sliced bananas is a sure winner. It is hearty, healthy and a great after school snack for your kids too. You could also add a handful of blueberries on top.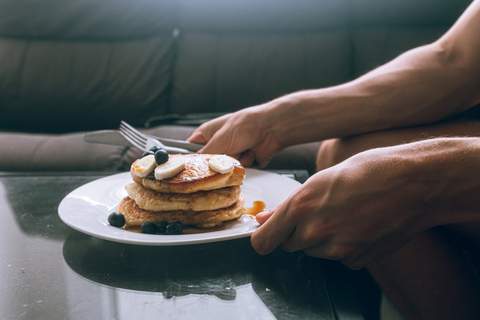 4. Strawberry and cream
If you want pancakes that taste like dessert, this is the one for you! A large dollop of whipped cream, which can be made at home, along with sliced fresh strawberries, is a super fresh and tasty pancake topping. For a healthier alternative, you can substitute the whipped cream with flavored yogurt. You could also add banana slices for a dash of natural sweetness.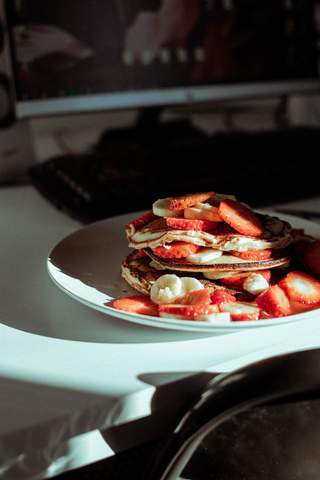 5. Granola
Yup, you heard that right! Granola sprinkled over the top of your pancakes with some honey is a super healthy and delicious pancake topping. For kids, replace it with marshmallow (or marshmallow sauce).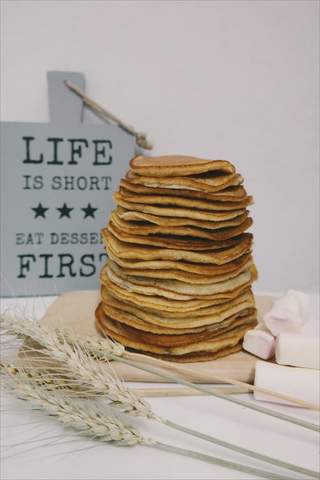 6. Fried eggs and mushroom
Classic fried eggs on top of your pancake stack with some sautéed mushrooms are great if you aren't a sweet tooth and prefer savory food. It's super flavourful and you can eat these guilt-free since this is also a healthy pancake topping. You could also opt for bacon instead of mushrooms.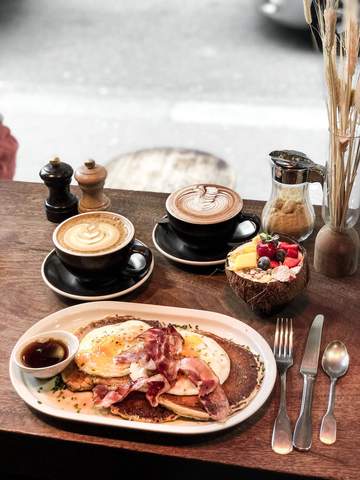 7. Spinach and eggs
Chop up spinach and onions finely and mix in with your pancake batter. After making your pancakes, top up your stack with a fried egg and some ricotta too if you want to dress up this healthy savory pancake further.
8. Potatoes and cheese
There isn't a single version of potatoes that isn't delicious! These potato and cheese pancakes are no exception. Mix well-drained potato mash to your pancake mix and whisk it to a smooth batter. Top up your cooked pancakes with some cheddar and you have yourself a tasty, savory pancake topping.
9. Avocado and maple syrup
This may sound like a strange pairing but sliced avocados with a drizzle of maple syrup or honey over the top work great when you want a bit of sweet and savory in your pancake topping. The fruity freshness of seasonal orange and pomegranate can make it more flavorsome!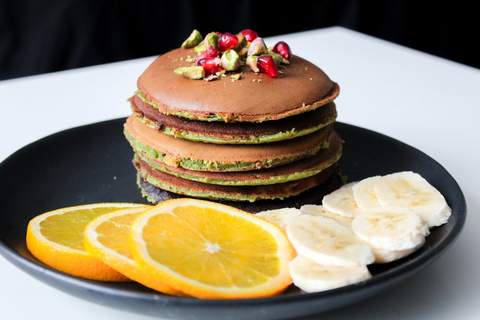 10. Cheese and honey
That's right. Who says you need to commit to savory or sweet? The saltiness of the cheese is balanced perfectly by the sweetness of honey. A little bit of feta with a drizzle of honey is not only delicious but also healthy. Almond shavings can be added for an extra dose of nutrition.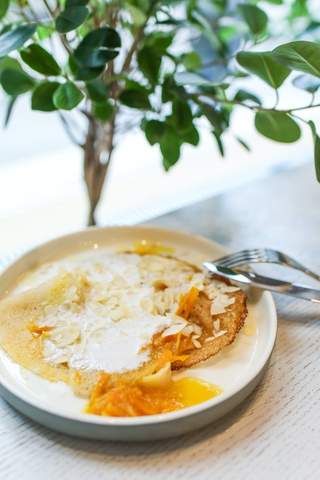 Some other amazing options:
(i) Orange, caramel, and walnuts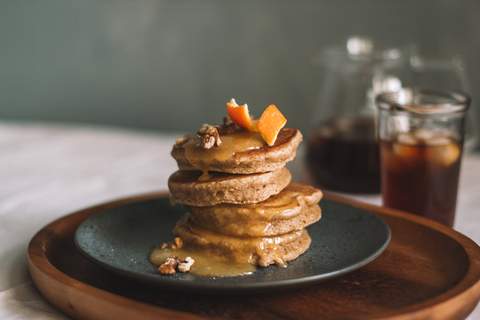 (ii) Soft cheeses like cream cheese, ricotta, and cottage cheese
(iii) Yogurt and sour cream
These pancake toppings are sure to give a yummy boost to your breakfast favorite. You might never go back to your standard (and only) maple syrup.