Foxtail millet is a source of vital nutrients for the strengthening of muscles and bones. It also happens to be rich in natural iron which helps reduce muscle spasms and eases out restless syndrome. Our grandmothers used Kangni (in Hindi) generously in their kitchens. But, if you are new to cooking millets, this blog post will definitely be helpful.
Foxtail millet benefits:
1. A diet including foxtail millet may improve glycemic control and reduce insulin, cholesterol, and fasting glucose in Type-2 diabetes patients.
2. Rich in Vitamin B12 which is essential for maintaining the smooth functioning of the nervous system, and in general good for skin and hair growth, most nutritionists recommend including this supergain in our children's' weekly meal plans.
3. One of the most outstanding foxtail millet benefits is that it is a hearty-healthy grain. In adults, it helps to regulate blood pressure, thereby reducing the chances of blockage in heart that may result in cardiac arrest or stroke. It also helps in the reduction of LDL levels in the body. 
Foxtail millet – Nutrional benifits: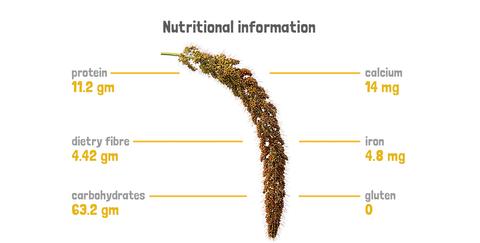 If you have doubts about the versatility of this grain, we'd like to solve your problem. In the past, we have shared quite a few recipes (mentioned blow) using foxtail millet. Have you tried them, yet?
Here's how to make foxtail millet bread – Recipe 
Ingredients:
1. One cup foxtail millet flour or Slurrp Farm Sprouted Ragi Powder
2. One cup- all-purpose flour
3. 15 Milliliters of milk
4. One gram of salt
5. 2 Gram of yeast
6. 5 Grams of sugar
7. 30 Milliliters of water
8. One egg
9. Oil for greasing
10. You could add a layer of sesame and flaxseeds for seasoning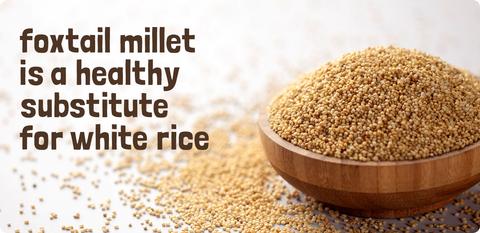 Foxtail Bread Preparation Method:
1. In a large bowl, dissolve yeast in warm water.
2. Add the sugar, salt, oil, and keep aside for 2 minutes.
3. Add the foxtail millet flour (or Slurrp Farm Sprouted Ragi Flour), all-purpose flour (maida), milk, and mix it into a smooth dough.
4. Knead until smooth and elastic, for about 8 to 10 minutes, and place in a greased bowl.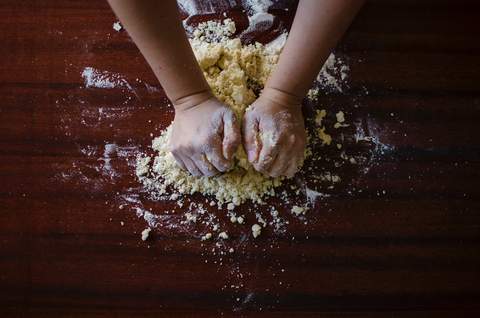 5. Cover and let it rise in a warm place until doubled in size. This should ideally take about 1 ½ hour.
6. Set the oven temperature to 190°C.
7. After 1 ½ hour, punch down the dough onto a floured surface.
8. Shape it into a loaf and place in a greased loaf pan and bake at 190°C for 15 to 20 minutes.
9. Remove from pan and let it cool. Now, cut into loaves and pack. You may wish to refrigerate it.
This recipe has been extracted from the IIMR Recipe Book. It is a part of the initiative "Millet Recipes – A Healthy Choice" put together by ICAR- Indian Institue of Millets Research. The main force behind this program includes B Dayakar Rao, Vishala AD, GD Arlene Christina, and VA Tonapi.