Meet Dr. Narayan Lakshman
Dr. Narayan Lakshman is an Associate Editor at The Hindu, one of India's largest English-language daily newspapers, founded in 1878; and he is a Director of the Hindu Group parent company, Kasturi and Sons Ltd. (KSL), an iconic brand name in the South Indian media space.
Previously, he was The Hindu's U.S. correspondent based in Washington DC, where he spent over six years sending despatches on strategic issues in India-U.S. politics.
Prior to joining The Hindu, Narayan pursued doctoral research at the London School of Economics on the politics of poverty alleviation in India, which he completed in 2006, then went on to join a hedge fund in London as a research analyst.
He resides in Chennai with his wife Nandini and daughters Lila and Mallika, with whom he regularly attempts to refine the art of baking cookies – the road ahead is long. He is passionate about tennis and karate – club-level player for the former, black belt, and former state champion for the latter.
Get to know him:
1. Words I live by…
Ring true – my Cambridge college motto – which I interpret as a standard for personal integrity and professional conduct.
2. Why I like to eat healthy (or why eating healthy is important for our family)?
Because what you eat is who you are – and this matters even more for children who are growing. I've also come to appreciate that our diets are fundamentally unbalanced in many circumstances – typically too many carbohydrates, fried foods, refined and synthetic products including sugar and not enough protein, veggies, and daily water intake. Correcting this has helped me experience fat loss and strength building and I'd like to help the rest of my family understand the importance of this.
3. What's that one fun thing you always do with your child/children?
A shared outdoor activity on the weekends. Pre-COVID this was swimming or hitting the playground with a ball or frisbee. In the new and changed situation we are turning to bicycle riding through the neighborhood as a family, with the ambition to do longer – an hour or more – bicycle rides across the city early on weekend mornings.
4. If your life would be a reality show, what would it be called?
"First World Problems" (But jokes apart, my wife Nandini and I ensure that our kids grow up with an active appreciation of how much we have and how little so many others have by comparison, and to be grateful for the former and empathetic and proactive about responding to the latter).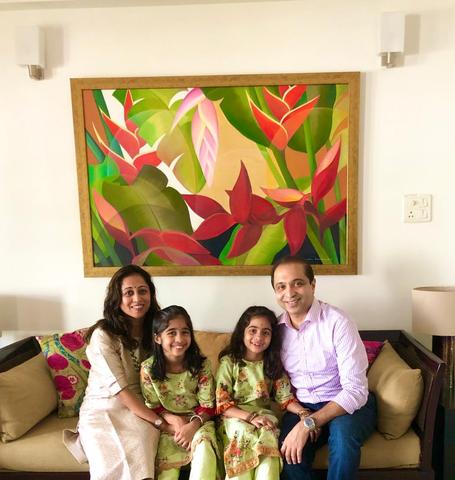 5. What is the easiest and happiest part of being a parent?
Tapping into the infinitely-diverse and ever-creative ways in which my kids have fun – regardless of the circumstances and the settings. It's been amazing to see them invent new games and activities in the current lockdown mode, completely undaunted by the restrictions in place