We're always on the lookout for new recipes that inspire and challenge our baking abilities. We land on Instagram and feel overwhelmed by baking gurus and their stunning cake pictures. It takes a second to absorb all the information. And then we ask ourselves, "What would it take for my cake recipe to turn out exactly like this?" And we also ask ourselves, "What is yummy plum cake made of? (Minus all the alcohol, cause I would also want the kids to enjoy!)"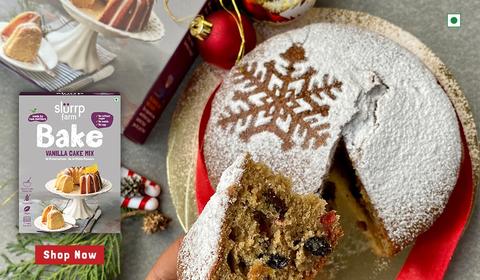 Not so long ago, a friend, my baker friend- Ayesha suggested I try this rich plum cake recipe that has the goodness of a variety of dry fruits. Her yummy Christmas cake Indian recipe has no alcohol in it. In fact it is baked using a very healthy vanilla cake premix. All she did was – prepared a mix of fruits and nuts by soaking dates, apricots, black raisins, and nuts such as cashews, walnuts, and figs (optional) to get an ideal dessert recipe for the occasion we're all waiting for. 
I remember how Ayesha causally commented, "This plum cake will surely win everyone's heart, my dear." But I kept wondering if it would be that easy to make or bake! I went back to the same question: What is plum cake made of? Do I have all the plum cake ingredients with me? To which she answered, "Yes! It requires effortless baking, minimum ingredients and tiny hands to help you with."
What goes in it? Rich plum cake ingredients:
Ingredients
1. Slurrp Farm Vanilla Cake premix box
2. 100 ml warm water
3. 30 Gms butter
4. 60 Gms yogurt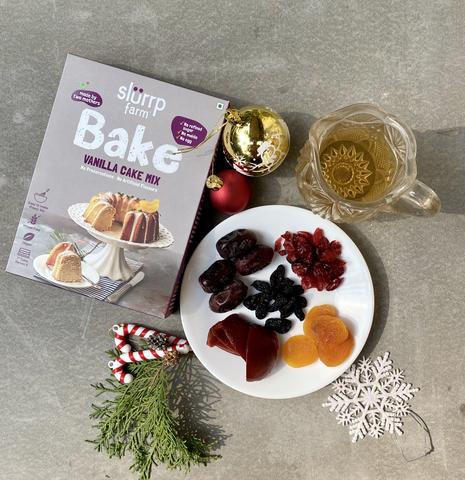 Ingredients for the fruit and spice mix
1. 10 Gms orange peel
2. 10 Gms dates
3. 10 Gms apricots
4. 10 Gms black raisins
5. 10 gms cranberries
6. 60 ml apple juice
7. One tbsp Christmas spice mix (ginger powder, nutmeg and cinnamon powder)
Method for the plum cake
1. Preheat the oven to 180 degrees celsius. Line your preferred cake mould.
2. Whisk the warm water, yogurt and butter together.
3. Now add the raw unrefined sugar (sachet 1) and vanilla cake mix (sachet 2). to the above liquid.
4. Whisk the batter well ensuring no lumps.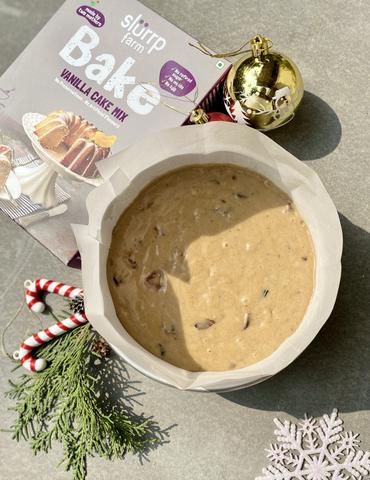 Method to include fruits in the batter 
1. Finely chop all the fruits and soak them in apple juice for 1 hour or over night.
2. The squeeze the excess apple juice out of the fruits and add it to the batter.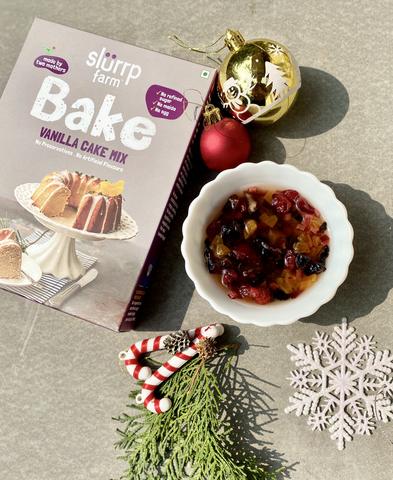 3. Sprinkle the Christmas spice mix (include equal quantities of ginger powder, nutmeg and cinnamon powder)
4. Mix well and pour the batter in the prepared cake mould.
5. Bake for 30-35  minutes. Allow the cake to completely cool and then de-mould.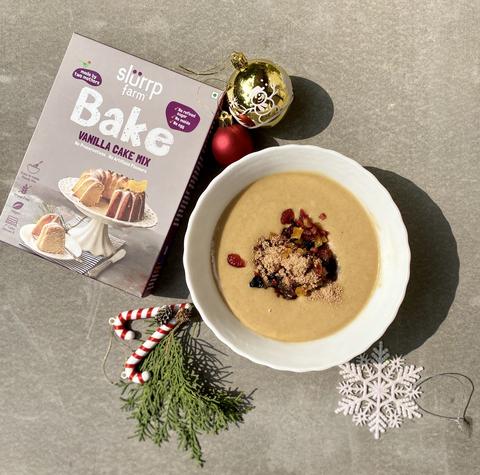 6. Serve the cake at room temperature.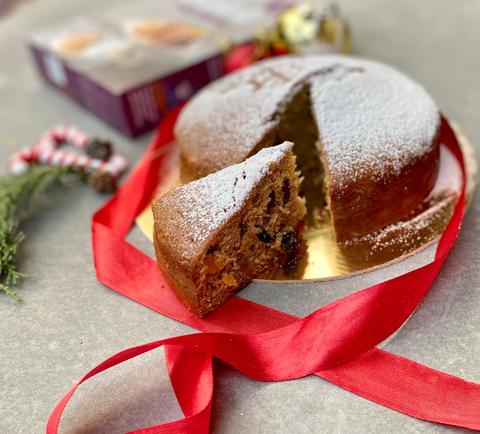 Chef Ayesha has done a quick FB Live step-by-step plum cake recipe. For those who'd like to watch the video, click on the image below.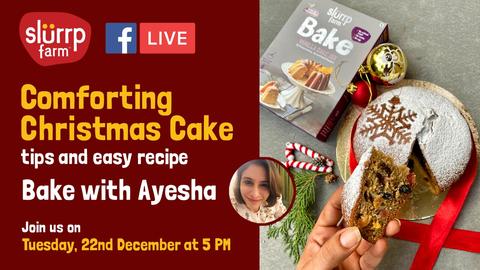 Dear all, here's hoping you were able to source all the plum cake ingredients and enjoyed baking my friend's plum cake recipe?
"May the sweetest cake of Christmas brings lots of sweetness in your life, have the sweetest Christmas."
Merry Christmas!