By Samira Sood
If you do an online search for "What should I feed my baby after 6 months", you get more than a billion results. 
Some might think that's unusually high, given that food for kids mostly consists of mashed or pureed fruit, rice, maybe some bland dal, what's the big deal, right? Not quite. 
Pretty much nothing in the world is as confusing as being a new parent. Of all the new experiences in the world, it's the one that changes your life like no other. Suddenly, a tiny little human being's entire existence is in your hands. You have no prior work experience in this area and you have no idea whether you're doing it right, because that little person who is, in many ways, the boss of the house, cannot tell you except by crying or not crying, and trusting you to decode what they mean. And the most confusing part, perhaps, is meal time.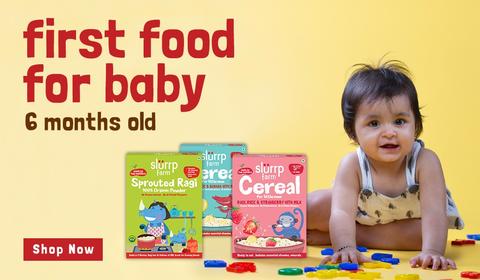 Weaning, or the process of starting your child on solid food, can be overwhelming for a lot of parents, especially first-timers. What to feed, when, how much, what to do if they don't eat, what makes for a healthy breakfast, what's a nutritious snack – we know it's not easy. But it should, and can, be fun. 
India's got such a stunning variety of grains, lentils, fruit, vegetables, spices, and herbs, and such incredible culinary diversity that every 100 kms you find new recipes and new colors and textures on your plate. And giving your child the experience of this diversity early on is key to making sure they grow up appreciating whatever is on their plate, whether it is a wholesome breakfast or an evening snack. 
We spoke to several parents and grandparents across the country who took us into their recipe books and their memories to tell us what they fed their children, including some rather odd combinations. Read our three-part series to find out more.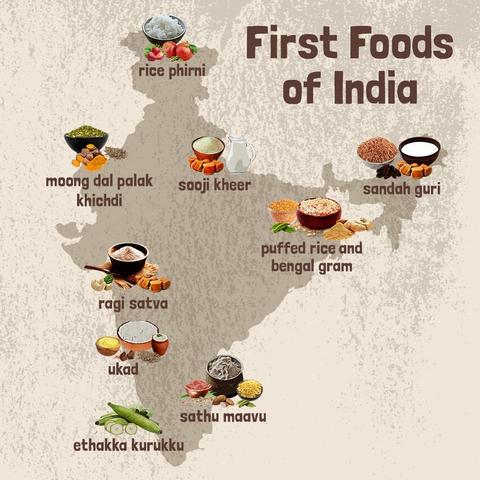 Food for kids: ragi rules and the importance of never saying yuck
For many new parents, family recipes and regional concoctions are the first port of call. Food writer Rituparna Roy is a Bengali now based in Mumbai, married to a Maharashtrian, and the mother of a three-year-old boy, Neil. She recalls that when he was ready to be weaned, she was at her parents' home in Durgapur. She tried all the usual first foods – mashed banana, stewed apple, and dal ka pani – but he only took to banana. She asked her mother what to do. Bengali kids are often given boiled mashed potatoes with butter with a boiled egg – rice is sometimes added for older kids. "I was given that as a baby, and it's comfort food for many adults, too. My mom suggested I try it with Neil, so I just gave him the potatoes in butter, and he ate it!" 
The Bengali diet is very different from the Maharashtrian one, though – and Roy is thankful her son has the best of both. She had never even heard of ragi, for instance, until she moved to Pune as an adult, but it was a mainstay of her son's early meals, as was kheer made of Maharashtrian Ambemohar rice, both courtesy her mother-in-law. "Once I returned to Mumbai, my mother-in-law gave me this packaged powder called Purnanna, which had ragi, whole wheat, red masoor dal, green moong, Bengal gram, urad, nutmeg, and cardamom. I'd boil it with water or milk and he ate that regularly for around six months." 
On the other hand, ragi is commonly used in the kitchens of South India, and both Anisha Rachel Oommen and Sudha Malik relied on it heavily as a first food for their kids. Interestingly, both owe their supply of it to their domestic staff. Oommen, the Mumbai-based co-founder and editor of food website The Goya Journal, is originally from Kerala, but both she and her husband grew up in Bengaluru. "The first food we gave Ari, our son who's now two, was ragi – our cook sourced it from her fields in Tumkur. We mixed it with other lentils along with cardamom, cinnamon, and clove, and cooked it as a porridge with milk." Malik is a Kannadiga married to a Punjabi and living in Delhi, and is now a grandmother of two. The yoga and Ayurveda practitioner recalls that the staff at her mother's house used to grow ragi and "I noticed her kids were quite sturdy and strong, so I decided I would follow that."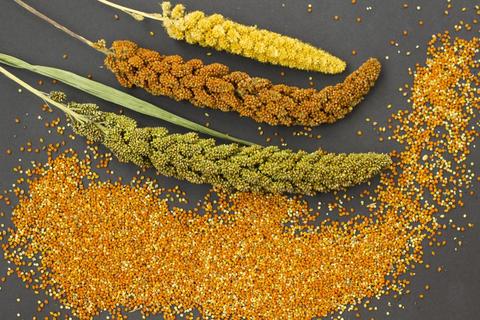 Ragi was also the go-to for Mumbai-based Goan Neeta Parulekar, who would actually sprout it at home for her daughter Avanee, now well into adulthood. She would sun-dry and powder it, and store it in an airtight container. She'd cook it with milk, a pinch of cardamom powder and Goa's famous palm jaggery (which Avanee loved so much that she would even give her a small bit to just lick sometimes).
But it wasn't all ragi and rice – sometimes parents were quite adventurous with their weaning menus, too. Malik recalls that right from the start, both her children, who are now in their thirties, were fed mashed rice mixed with dal cooked in ghee tadka and a bit of lemon, or even with rasam. "Nothing too spicy, but they ate it readily." 
Oommen, meanwhile, relied on the nendran bananas that Kerala is famous for, but made to vary it up as well. "We tried to make sure each meal included a portion of dairy, protein, fruit and vegetables, some grain, but we would also give him small pieces of whatever we were eating, like bits of appam." Her husband, in fact, recalls that Ari adored fruit –  the more tart and sour, the better. It's an unusual choice for a baby, but then, their idea has always been to get him to try everything and "never say yuck to anything. How else will a child learn all the wonders that are out there?"
When we shared some of these stories on Instagram, the response was overwhelming, and many young parents wrote to us asking for recipes. Some of our favourites are sandah guri (we used brown rice and didn't add any raisins), rice phirni with fresh fruit (we replace sugar with jaggery and didn't add green cardamom), and puffed rice porridge with Bengal gram.