By Aswathy Gopalakrishnan
Congratulations on the big one! Your baby is now officially a toddler! Toddlers are full of curiosity and always thrilled to explore. They touch, taste, smell, and reach out to everything that holds their interest. Now is the best time to introduce new solid foods essential for their growth. Our simple yet nutritious Breakfast recipes for 1-year-old Indian baby are perfect options to help with that.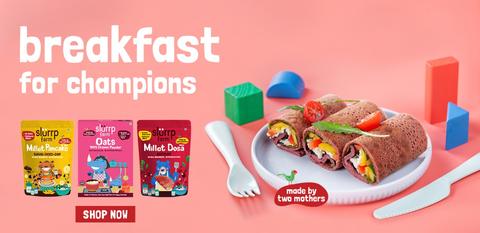 Kids who eat a nutritious breakfast tend to make healthier choices throughout the day. It also provides them with enough calories to begin an energetic and eventful day.
At one year, children can start the kind of foods the rest of the family eats. However, it can be frustrating to deal with their inconsistent and fickle appetite. The trick is to plan interesting kid-friendly choices that keep them excited for meals. 
Are you confused about how to manage it? No worries. We are here to make it simple for you with our well-curated charts – Breakfast recipes for 1-year-old Indian Baby.
Healthy breakfast recipes for 1-year-old Indian baby
It is essential to maintain a balanced diet, including all the necessary nutrients. The recipes I have provided here are healthy homemade meal options that help the toddlers for proper growth and gain healthy weight. These are simple yet nutritious choices that I personally utilized to sneak in a lot of veggies and fruits to your little ones' diet.
1. Two Ingredient Sweet Potato Pancakes
Kids love pancakes! And, this one with its simple ingredients and ease to make is a win-win for you as well as the baby. The soft texture makes it a great option for baby-led-weaning as well.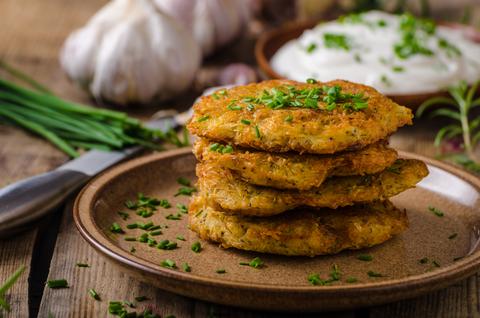 Ingredients:
1. ½ Cup of mashed sweet potato
2. 2 Eggs
3. ½ Tsp ground cinnamon (optional) 
Method:
1. Mix the sweet potato and eggs until well combined. Add the cinnamon(optional) and stir through.
2. Heat the butter/ghee in a frying pan over medium heat.
3. Spoon one tablespoon of the mixture into the pan. You can make multiple pancakes at a time depending on the size of the pan.
4. Cook for around 2 -3 mins. Flip and heat until cooked through.
One-year-olds are ready for the transition from breast milk or formula to whole milk. It can provide the extra fat required for your toddler's healthy brain development. Please note that pediatricians do not recommend low-fat drinks and foods until two. They also recommend continuing breastfeeding as long as you and your child are comfortable. But, if you are planning to wean, get all the tips necessary on our ultimate weaning guide.
2. Green Smoothie Muffins

Green smoothie muffins, also known as monster or hulk muffins, are an excellent choice for 1-year-old toddlers. As the name suggests, it's green color can be fascinating for the kids. With ingredients rich in vitamins, healthy fats, and proteins, they make the perfect breakfast providing lasting energy for energetic toddlers.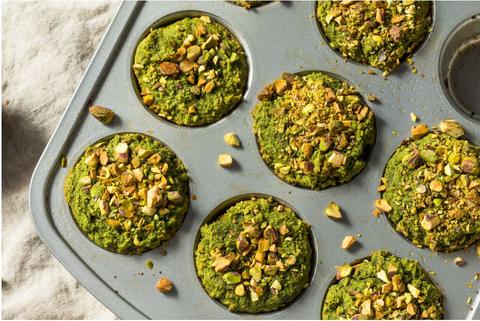 Ingredients:
1. One cup sliced ripe banana
2. 2 Cups spinach
3. ¾ Cups milk
4. 1/4 Cup of milk
5. 1/4 Cup of honey/maple syrup
6. 2 Tbsp metlted butter
7. 2 Eggs
8. One tsp vanilla extract 
9. 2 Cups (or 1 cup of each) whole wheat/ Slurrpfarm Oats Powder
10. One tsp baking soda
Method:
1. Preheat the oven to 375 degrees F. Grease the muffin tin well with butter or an oil spray.
2. Place all the ingredients except the flour in the blender.
3. Blend them into a fine paste, as if you are making a smoothie.
4. Carefully mix in the flour to the paste to form a smooth and lump-free batter.
5. Pour batter into the prepared muffin tins and bake for 18-20 mins or until the sides turn slightly brown. You can also check by inserting a toothpick into the center and see if it comes out clean.
6. Once cooled down, carefully remove from the tins.
The muffins refrigerate well for 3-5 days. You can also use Slurrp Farm ragi flour in place of oats flour. 
Additionally, add chocolate chips and Slurrp Farm nut powder to make it more rich and delicious.
It is typical for your toddler to go through confusing phases. They may restrain from solids or reject some food at times. It can be frustrating for parents. However, be patient and go with their demands and find alternate ways to include that food. To avoid any nutritional deficiencies, provide a supplementary multivitamin prescribed by a pediatrician.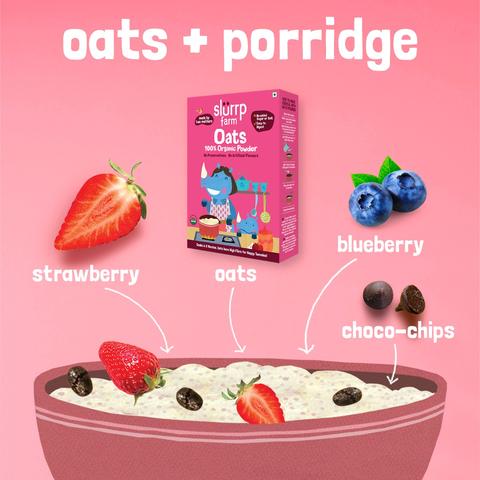 3. Mixed dal and veggie dosa 
Protein-rich dosa made of different types of dals in a perfect savory breakfast option for toddlers and kids. The batter for the dosa can be made ahead and stored in the refrigerator for 3-4 days.
Ingredients:
1. 1/4 Cup channa dal 
2. 1/4 Cup toor dal 
3. 1/4 Cup moong dal 
4. 1/4 Cup urad dal 
5. 1/4 Cup masoor dal
6. 1/2 inch pience ginger 
7. 1/2 Tsp jeera 
8. Salt – as needed
9. Water – as needed for a smooth batter
10. Dry red chili – as per taste (avoid if your kid is not used to spicy foods)
11. Ghee – as needed while preparing dosa
Method:
1. Wash and drain the dals well and soak them for at least 4 hours or overnight.
2. Grind the soaked dals along with all other ingredients into a smooth paste.
3. Heat a Tawa, apply some oil, and prepare the dosas. Smear a generous amount of ghee to make it crispier and tastier. 
Occasional changes in diet can lead to fluctuations in your toddler's weight. To maintain a healthy weight, try to include healthy fats in your child's diet. Check out the below articles to know more about the food for 1-year-old Indian baby to gain weight:
List of Ideal Food For 1-Year-Old Indian Baby To Gain Weight
Top 25 weight gain foods for kids
Top-10-weight-gain-foods-for-healthy-babies
It is always better to proceed with homemade baby food recipes for 1-year-old toddlers. It helps to be aware of the ingredients and be careful about the allergens if any.
Your toddler can be an opinionated picky eater. But know that you are not alone. Many parents go through similar situations to get their children to try new foods. The struggle is real. But, remember to keep a positive attitude and be patient with your child. Slowly but steadily, your child will learn to appreciate the delicious food you prepare. 
Hope you found our breakfast recipes for 1-year-old Indian baby beneficial. Please note, in case of any allergies, replace that ingredient with a healthy alternative with similar nutritional content. Also, make sure the child is well hydrated by providing enough breastmilk, whole milk, and water. Above all, make the process enjoyable and fun for you as well as the baby.