By Monalisa Mehrotra
The simplest things are often the very best. Isn't that lesson coming through loud and clear these days? That is what this classic eggless cake recipe cake is all about. Stacked evenly and smoothly frosted to perfection. Mastering this eggless plain cake and presentation will build a foundation for your cake baking and designing dreams. Take a picture, because I know it won't last a day, especially if you have kids an adults battling sweet tooth.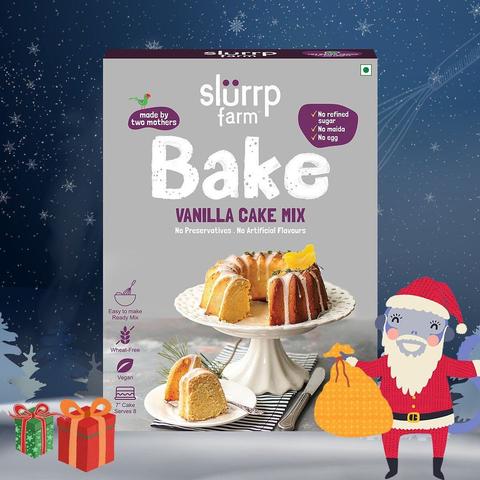 You could  click on the picture to try healthy cakes with no maida and no refined sugar!
Whether it's a birthday, an anniversary, a baby on the way or just a job well done, having a great eggless vanilla cake in your baking repertoire is a good idea. A rich, moist and flavorful eggless plain cake is a great people-pleasing dessert that can be dressed up for any special occasion. You can read about some of the healthy frosting too. However, finding a recipe that manages to hit all those marks can be challenging—until now.
Remember that when baking cakes, everything matters, right from how you fold the batter to the temperature of the oven.
The recipe can be made using an egg or replacing it with yogurt if you have an egg allergy. In my opinion, egg allergy is a tricky food allergy to live with because an eggs is mostly a hidden ingredient in all sorts of foods. But today, I can get the same taste with or without the use of eggs. Have you tried the Slurrp Farm Cake Mixes?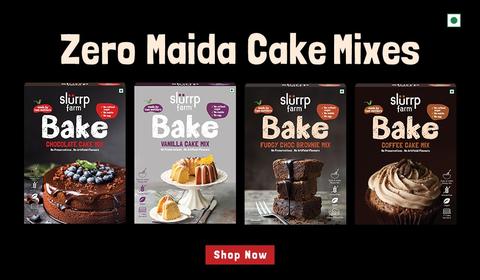 If you want to replace egg, try yogurt, which is one of the most common ingredients used as a substitute for eggs. It gives the cake a very similar texture and makes it fluffy and light. The best part of this eggless cake recipe is that if you do not have an oven, you can bake it in a pressure cooker too.  
Let's talk about the ingredients. Just like all my recipes, I wanted to have simple ingredients that most people usually have on hand. Read further to check the list of ingredients. I would say Mission Accomplished!
Baking tips:
1. If you are making the vanilla cake recipe using eggs remember not to over mix or over beat the eggs.
2. Make sure all your ingredients are at room temperature. Ingredients emulsify at room temperature.
3. Let the cake cool completely before you start frosting it.
Eggless vanilla cake recipe:
Serves – 4-5 people
Prep Time – 10 minutes
Cook time – 35-40 minutes
Ingredients:
1. One Slurrp Farm Vanilla Cake Mix Box
2. 100 ml Hot water
3. 30ml Oil
4. One egg (you can replace it with yogurt)
Equipment – Oven, mixing bowls, whisk, cookie cutters
Watch the video:
Method:
1. Pre-heat oven at 180C for 10 minutes.
2. In a bowl take all the wet ingredients – water, oil and egg and whisk together.
3. Add the Slurrp Farm Vanilla Cake Mix from the packet and mix till no lumps remain
4. Now, add the organic sugar from the packet and whisk into a smooth batter
5. Pour into a cake tin or loaf tin.
6. Bake for 35-40 minutes, till a toothpick inserted in the centre comes out clean.
7. Cool the cake completely and cut slices and enjoy.
9. To make it more festive we took cookie cutters and cut shapes out of the cake.