From Samira Sood
As part of our series on healthy food for kids, we wrote about the different kinds of first foods that parents across India rely on for their little ones here. In the second part of the series, we focus on how to make food interesting for slightly older kids and how to get them to like healthy food.
When it comes to feeding your child, many parents find that actually, early weaning is easier than what comes later – because it's when your little one is starting to show signs of an opinion and actually say the word no that things can get tough. Before that, they don't have much of a choice and they don't know anything else either. So how do you get them to have an open mind about food and not be a fussy eater? And how do you get them to like food that's good for them?
Sudha Malik believes it all has to be done subtly. Always interested in healthy food and a balanced diet herself, she made sure early on that her children had a good balance of veggies in every meal, but it wasn't overtly done – her trick was to make every meal, whether healthy breakfast or veggie-filled dinner, look fun. For example, she would grate carrot, radish, and potato to make rotis or vegetarian burger patties. "If it was burgers, then even the cole slaw and mayonnaise were made at home. So it was 'fun' food but it wasn't junk food – we got a lot of veggies out of it." With a bit of creativity, she found plenty of ways to make fruit and veggies interesting for her kids, actually. "In the south, there is this kind of sauce called gojju – made with jaggery and tamarind – I'd chop karela, fry it crisp and dunk it in the sauce. We make bhindi like that also, even pineapple, and the kids still love it." Even sick food was something to look forward to – Malik's mother-in-law would make Punjabi churi (crushed roti cooked in ghee and a pinch of sugar and sometimes topped with dry fruit and nuts) when the kids were unwell, and they adored it.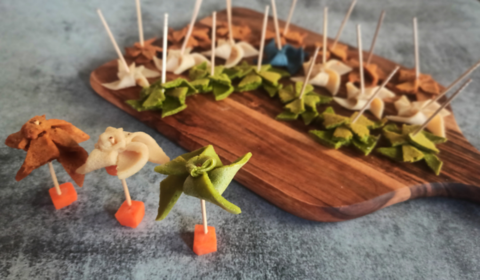 Malik and Anisha Rachel Oommen are also big believers in leading by example when it comes to food for kids – if children see you enjoying healthy food, they will want to try it. "You can't force kids to eat healthy by just saying it's good for them, but if it's done subtly and creatively from the time they're small, they'll pick it up, they'll develop a taste for it," they say. The same goes for opening their minds to different cuisines and styles of cooking – if they see you enjoying it, they will like it as well. 
Rituparna Roy is an example of exactly this. Her son Neil eats pretty much what she and her husband eat – including, much to the delight of her Bengali soul, all kinds of fish. "By the time he was nine months old, I had introduced him to rohu and kaatla, both freshwater fish that we eat a lot of in Bengal. The belly cut is less bony, so it's easier for kids to eat. Now, between my parents' home in Bengal and where I live in Mumbai, he gets a lot of both freshwater and seafish – rawas, pomfret, the works." She recalls he was barely a year old when she and her husband took him to Meghalaya for a holiday – he ate everything they did, barring the meat. "But today, he even loves chicken liver!" 
An early introduction to fish was also important to Avanee Parulekar's grandmother, Smita Dhond Prabhu, who started giving Avanee pomfret and tilapia by the time she was about two years old. It would be marinated in lime, salt, and turmeric, steamed, mixed with soft rice – and little Avanee thoroughly enjoyed it. Thanks to her grandmother, she was also introduced to strong flavours like mustard and asafoetida when she was still in her diapers. Prabhu would feed her ukad, a popular Maharashtrian concoction that she'd make with jowar and bajra flour, buttermilk, salt, ghee, mustard seeds, cumin, and asafoetida.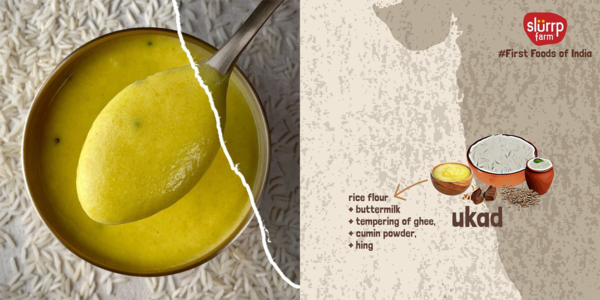 The stronger the flavour, the better Oommen's son Ari liked it – and continues to.  "He's two, and he already likes chicken liver pate, beef, mutton, pork, and chicken. Give him a slice of lemon and he'll suck it dry in 15 mins. If you give him bheja fry, he'll eat that too." 
It's not easy to get kids to eat everything, but ultimately, says Oommen, "they will eat what you give them, so the idea is to give them the things you want them to like." 
When we shared these stories on our Instagram page, many new parents wrote to us asking for some of the recipes. Here are the most requested recipes: moong dal khichdi (we add a few blanched and pureed spinach leaves) and ukad (this recipe calls for chillies, which you can avoid if you're not comfortable introducing your little one to them just yet).