By Monalisa Mehrotra
Spice up your morning with our oat's recipe for orange oats cereal. This recipe is a fun way to add some zest to your oatmeal and to switch things up in the morning and try something new. I was a little nervous about how this recipe would turn out. It seemed like a great concept, but would they pair well in oatmeal? Orange is surprisingly bland in oatmeal, much to my sadness. It doesn't hold up like grapefruit does! I just feel that the combo is so delicious and perfect for winter when we can all use an extra boost of vitamin C. On cold mornings, they make me excited to get out of bed, and I hope they do the same for you.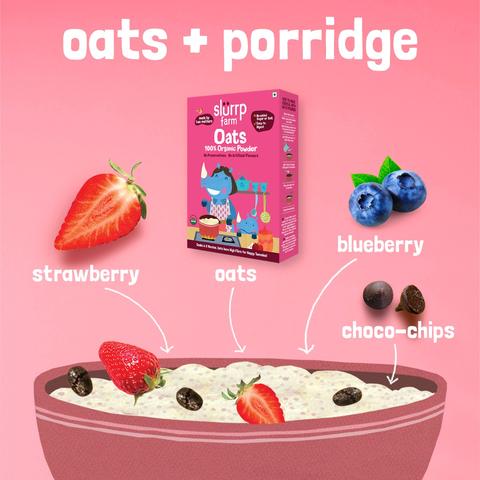 Also, you have heard it and we are saying this to you again that breakfast is the most important meal for the day. But not just any regular breakfast, your morning meal should have nutrients to keep you satisfied. We promise that this healthy breakfast oats recipe will keep you full. Imagine waking up to find your breakfast ready to eat in a handy little pot, without you having to do anything apart from roll out of bed and grab a spoon. This healthy breakfast oats recipe is as simple as that.
Oats is a whole-grain food loaded with vitamins and minerals. It is a good source of fiber, fat, and protein. What's more? Oatmeal's strong nutritional profile facilitates the baby's growth and development. This oats recipe for babies is also recommended for kids (above 12 months) who are already enjoying solid foods at six months onward. It probably won't win a most popular breakfast award, but oatmeal is a great choice for the babies for reasons including nutrition, convenience, and versatility. 
Topping ideas for oats recipes:
The possibilities and combinations are endless – it's great to start personalizing your oats recipe for babies. You can choose from for a range of healthy toppings that are packed with nourishing fruit and seeds. You'd be amazed – some overnight oats can be so deliciously 'dessert-like', you'd think you were tucking into a real treat even though they're healthy.
So, get rid of your regular oats and give it an orange twist to it.
I hope you like this oats recipe for babies as much as we do! Enjoy.
Orange Oats Cereal:
Ingredients: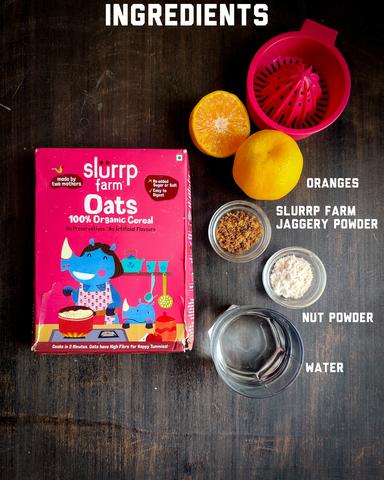 1. 3 Scoops of Slurrp Farm Organic Oats Cereal
2. 1/4 Cup freshly squeezed Orange juice
3. One teaspoon Slurrp Farm Nut Powder
4. Slurrp Farm Jaggery to taste
5. 150 ml Water
Watch the video:
Method:
1. Wash orange well in running water. Cut into two halves and use a juicer to extract fresh orange juice.
2. Take 150ml of boiled and cooled water in a pan, add 3 scoops of oats cereal to it and mix well to remove any lumps.
3. Also add 1 teaspoon Nut Powder to it (Omit this step if your child is nut allergic).
4. Add orange juice to the mixture and jaggery to taste.
5. Cook on a low flame, stirring constantly for 2 to 5 minutes till the mixture comes to a boil.
6. Switch off the gas, transfer into a bowl and cool the cereal before you feed your baby.