By Sharanya Munsi
Fighting sugar cravings are a constant struggle for those born with a sweet tooth. But this fight can be craftily won if strategized smartly with the use of clever alternatives to regular added sugar. The best indigenous option that exists is jaggery powder (also known as gud powder). You'd be surprised to know the outstanding benefits of organic jaggery powder. Read on.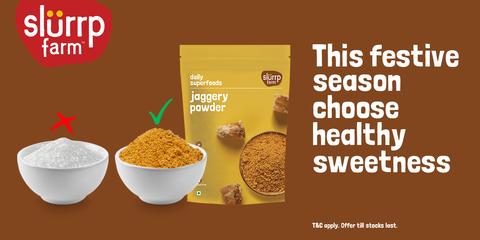 Jaggery powder aka gur choorn is a saccharide derivative made from either sugarcane or palm juice depending on which part of India you live in. Jaggery production requires craftsmanship as the juice needs to be stirred continuously over the fire for hours to be reduced. Then pounded to be made into different forms like liquid, solid, or powder. The result is a golden-hued substance that is packed in flavor and delightful goodness.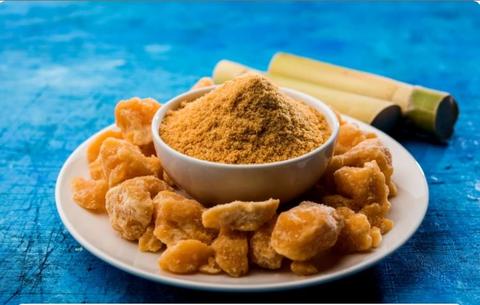 Did you know these benefits of organic jaggery powder?
It's not just children who can benefit from organic gur powder, when chosen consciously as an alternative to sugar, it helps alleviate the overall health of the whole family. Here's summing up five ways in which natural jaggery powder benefits all.
5 Awesome benefits of jaggery powder:
1. Prevent and relieve constipation
Jaggery has the natural properties to stimulate the flow of digestive enzymes which go a long way in both preventing and relieving constipation. It also induces bowel movements which can clear up any bad food stuck in your system. 
2. Detoxification of liver
Being a natural body cleanser, organic powder jaggery can take off a part of the workload of your liver. Help yourself to a tablespoon of jaggery at the end of every large meal and jaggery will lend your digestive system a helping hand.
3. Blood purifier
There is no dearth of natural blood purifiers offered by nature but none of them come in the versatile form of jaggery. Be it in liquid or powder form, jaggery helps flush out toxins from your body and cleanse your blood. 
4. Fights common cold and cough
Seasons of virals and flu are common, the best armor against them is to develop a strong immune system that can beat every form of common cold and cough. Jaggery can help you reach that goal without sweating or spending a lot of money on artificial boosters.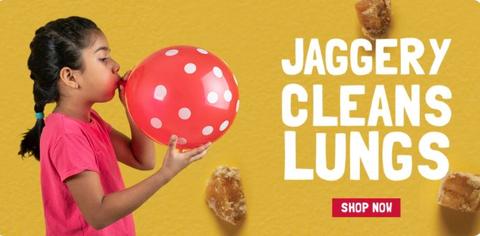 5. Source of carbohydrates
Carbohydrates may primarily be bad for your diet but not all forms of carbohydrates need to be admonished. Some like jaggery can be consumed in multiple forms and can do wonders for your body by keeping it healthy and fit. 
A lot of people often ask if jaggery powder for weight loss is a myth or a fact. Earlier this year – Chef Ayesha Nallaseth shared her fat-to-fit hacks and recipe of sprouted millet dark chocolate energy bars using jaggery powder as a weight-loss recipe! 
Want to whip up an easy yet savory dish using organic gur powder? It does not get any easier than sweet banana paniyaram. Read on for the recipe:
Sweet banana paniyaram recipe: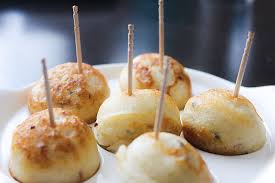 Ingredients:
1. One cups of whole wheat flour 
2. 2 Tbsp rice flour
3. 2 Tbsp grated coconut
4. One tbsp banana powder
5. One tbsp Organic Jaggery Powder
6. ½ tsp cardamom powder
7. One tsp cooking soda
8. Water as required for batter
9. 2 tsp oil for frying 
10. Salt
Method:

1. In a bowl, sieve and mix together wheat flour and rice flour. 
2. Measure out banana powder, Slurrp farm Jaggery Powder, cooking soda and cardamom powder it to the dry mix. Mix thoroughly. 
3. Add the grated coconut next. You can also use desiccated coconut. 
4. Add 2 tbsp of water at a time and whisk till mildly thick batter consistency is reached. 
5. Heat the paniyaram pan and brush it with oil.
6. Pour the batter into moulds halfway and then cover with lid. Let them cook for 2 minutes till one side turns brown.
7. Flip the paniyarams and gently add oil around the edges. Cover and cook for another 1 minute.
8. Remove from the pan and serve hot or cold. 
Now that we are well aware of the possible benefits of organic jaggery powder, here's hoping you'd make some really healthy snack recipes or desserts using Slurrp Farm Organic Jaggery Powder.