By Monalisa Mehrotra
I love whole grains. Period. If any dish is made with whole grains, I eat it with my eyes shut. Besides, I've grown up eating kambu dosai, so you would know how much love I've for everything millets. I think it's high time this traditional supergrain found a foothold in our kitchens, hearts and tummies. For those who know me have always known the fact that I try to incorporate millets into my diet whenever possible. My family is always open to trying out new millet recipes. I'll try to keep you posted all about my millet journey as much and far as possible. For now, here's presenting to you my tried and tested recipe.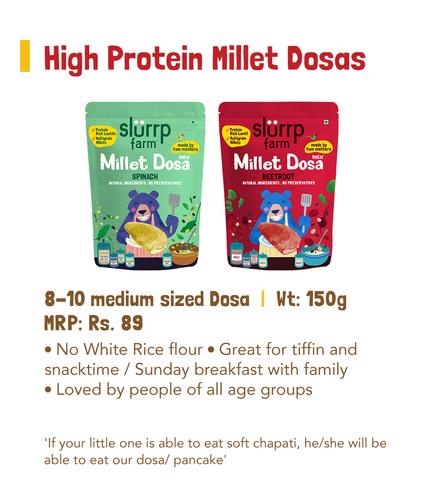 Buy your pack of instant millet dosa now and make 9-10 dosa from this millet dosa batter!
Why millets?
Millets is also known as poor man's food but now it's finding a way into everyone's diet due to the enormous health benefits in offering. Right from being loaded with good fats that the body needs, to helping lower cardiovascular problems, and improving the immune system, millets help regulate blood sugar. Millets is also an ideal food for diabetes patients. A millets-rich meal is diabetic-friendly! Isn't it a good choice to make dosa by substituting rice with millet? Also, if you want to lose weight, include millets in your diet and see how it rewards you. 
Dosas have earned quite a reputation. Also consumed as savory pancakes abroad, this food recipe is gut-friendly and nutritious. Processed in a food processor and combined with water, the mixture makes a thin batter that ferments until flavourful. The batter is spread out on a hot pan and cooked similar to a crepe until crisp and delicious. I just used the regular dosa recipe but enhanced it nutritionally with barnyard millet to it and it tases so well. This no-rice, barnyard millet dosa, is the best way to start if you haven't yet included millets in your diet as they are gluten-free and diabetic friendly as well.
I have been trying different millet recipes like Organic Brown Rice Khichdi and Millet And Mushroom Risotto.
Did you know: 
The nutritional profile of barnyard millet is 6 times more fiber than wheat. Barnyard Millet is rich sources of bone-building minerals material that is the essential calcium and phosphorus on a daily basis.
Here's presenting to you a tried and tested recipe for barnyard millet ('Kudhiravaali' in Tamil) dosa, which all of us in our family love. These dosas contain absolutely no rice, and taste just like the regular ones – no one can tell the difference! They are supposed to be more filling, yet lighter on the digestive system than the rice-based dosas.
Watch the millet dosa recipe video:
Sprouts and millets dosa or barnyard millet dosa recipe
Ingredients: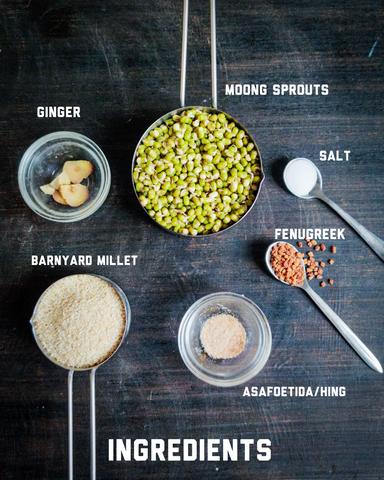 1. 1 Cup moong sprouts
2. 1/3 Cup barnyard millet
3. ½ Inch piece of ginger
4. ½ Teaspoon fenugreek seeds/ methi
5. A pinch of asafoetida/hing
6. Salt – optional (add salt only if your little one has been introduced to salt)
7. Water to adjust consistency
Method:
1. Soak barnyard millets with methi seeds in water for 45 minutes.
2. In a blender, take moong sprouts, drain barnyard millet, ginger, asafetida, salt, and water.
3. Grind to a coarse paste. And keep aside for 15 minutes.
4. Adjust the consistency of the batter with more water if you want. The batter should be normal dosa batter consistency.
4. Heat a dosa tawa on low heat, and pour ladle full of batter onto the tawa and spread it in a circular motion.
5. Add ghee on the sides and once one side is done flip and cook on the other.
7. Serve with your favorite chutney.
 Your barnyard millet dosa is ready! 
Hungry for more? There's more coming your way. Stay tuned!