by Sharanya Munsi
Discovering your child has diabetes is not an easy feat to handle as a parent. After the initial shocks wear off and you are handed a long list of don'ts, it is common to wonder if your child will ever have a normal childhood and get to eat tasty food? The good news is that, your child need not be cast into a life of boiled, flavorless food, rather he or she can lead a healthy and full life with calculated judicious controls in place so that their diabetes can be handled easily.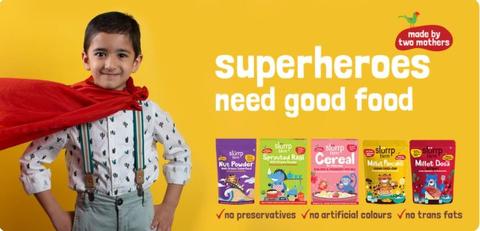 Everything yummy and good for the tummy. Shop from a wide
range of what's best for your kids!
Finding out what food is good for your diabetic child may initially come across as a challenge but a little investment of time and energy, will help broaden your options immensely. It will entail planning and ideating for you as a parent to ensure your child gets introduced to new tastes, flavors and varieties of recipes so as to never tire of eating. This can easily be managed with fewer fat intakes and increased healthy fruits and veggies. In this battle against the predominantly oily and sugary food, whole grain products such as jowar, bajra, oats, quinoa and barley will be your best friend when crafting main dishes that will keep your child full for long.
Innovate and play around the ingredients with items like pita breads, khichdi, porridges, light sautees and others. The idea is to feed your child complex carbohydrates that take longer to digest thus not allowing blood sugar levels to shoot up. Low fat dairy products with increased calcium content in this regard can also help you in your journey. It is crucial that you have only one source of protein per meal in the form of dal, curd, milk or meat so as to keep the blood sugar level stable. Fiber-rich food with low glycemic index in the form of sprout kebab, chaat and soups helps add flavor with innovation. 
Here's a look at how you can go ahead with planning kid  friendly diabetic recipes: 
Steps to plan kid friendly diabetic meals:
1. Divide the day into the number of meals you want to feed your child, it should ideally be four – breakfast, lunch, snacks and dinner.
2. Make a list of food items your child needs to eat on a daily basis to keep their diabetes in control.
3. Find recipes based on the above items. Pay close attention to the process of cooking. It should ideally use little to no oil, you can even try alternative methods to frying like grilling, baking, sauteeing etc.
4. Categories these recipes into kid-friendly diabetic snacks, main course, appetizers, dessert and others.
5. Aside from the main dishes, you should also look for alternative ingredients for dips, sauces and chutneys to step outside the gambit of mayonnaise.
6. The doctor may prescribe certain calories and carbohydrate intake for a day, divide the meals accordingly keeping tab of the values.
7. It is important to keep a collection of recipes for you to go back to and explore and provide different tastes and flavors for your child. So keep at least 4-5 handy dishes for each course.
8. You will be surprised by how easy life gets when you plan meals ahead. Do not be shy to chart out the meals through the weeks as this will help you with grocery shopping and preparing your meals ahead of time.
9. To give you a head start in your search for kid  friendly diabetic recipes, here's sharing an easy main dish to try at home:
Tomato basil pizza with low-carb cauliflower base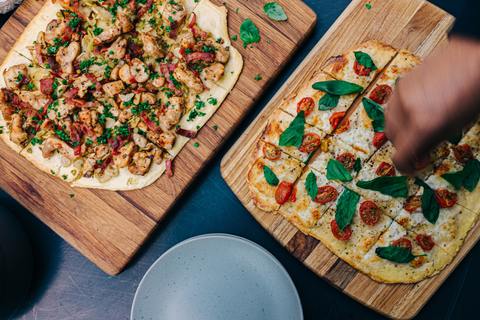 Ingredients:
1. 500 gm cauliflower head
2. 2 Tbsp Slurrp Farm Organic Sprouted Ragi Powder
3. 3 Tbsp oregano
4. 2 Tbsp garlic powder
5. 2 Tomatoes thinly sliced 
6. 5-10 Basil leaves 
7. 3 Tbsp pizza sauce 
8. 2 Eggs
9. ½ Cup mozzarella cheese 
10. 3 Tbsp parmesan cheese
11. Salt 
12. Pepper
Method:
1. In a large bowl place a clean muslin cloth and grate the cauliflower till you get a rice-like crumbly consistency. You can also lightly pulse it in the food processor.
2. Cover the grated cauliflower in the cloth and tightly squeeze it to remove as much water as possible. Sieve the ragi powder to the cauliflower to add a healthy touch to the pizza.
3. Add pepper, oregano,  garlic powder and effs  to the cauliflower and mix gently.
4. Preheat the oven to 220 degrees.
5. Line two baking sheets and shape the cauliflower crumble into a pizza base.
6. Cook it in the oven for 20 mins.
7. Spread the pizza sauce, arrange the tomatoes and add mozzarella cheese. Place the basil leaves on top.
8. Place it back in the oven and cook for another 10-15 minutes till the cheese melts.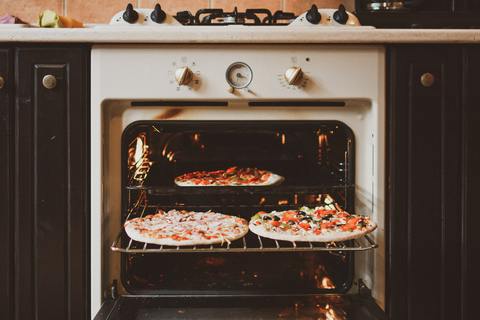 9. Serve hot with drizzles of parmesan cheese on top. 
One you enter the journey of finding diabetic-friendly substitutes for usual recipes, you will be surprised by how easy it is to whip them up without putting your child's health at risk.