By Srinia Chowdhury
We all know that the Teacher's Day is celebrated across the country in the remembrance of our former President, Dr. Sarvepalli Radhakrishnan. It is actually his birthday on 5th September that some of his students wanted to celebrate. So, he went on by saying, "Instead of celebrating my birthday, it would be my proud privilege if September 5 is observed as Teachers' Day".
Many schools have been doing distance learning for almost two months now. Though it's been a while since your child was in a classroom, your child's teacher has been working hard to educate them in all-new ways. In a matter of days, they changed their learning plan, created new content, learned new technologies, and constructed a new way of schooling in order to take care of the kids in their care.
It's apparent to me now more than ever how much our teachers deeply care for and love the kids they teach. Their efforts deserve a virtual round of applause.
We wish all our teachers a very Happy Teacher's Day Teacher, and while we can't bring in a bouquet of flowers or a cute Pinterest-y gift to show our love, we can still shower our teachers with a happy teacher's day handmade card for the outstanding work they've done during this unprecedented time.
This teacher's day let's get your child thinking out of the box by doing an art activity involving the therapeutic doodling, cutting, and pasting all in one project to get their critical thinking and fine motor skills running and make a greeting to show gratitude for their teachers.
Why is critical thinking important?
1. Using art for critical thinking and stress relieving is a sector that is often neglected. There are many proven benefits of encouraging your child to look and think creatively.
2. Fostering an imaginative atmosphere helps children get interested in abstract and critical thought, sharpen their visual-spatial acuity and become more receptive to out-of-the-box thinking. They can delay gratification, tolerate uncertainty, and exhibit high self-control levels.
Benefits of doodling
1. Doodling is probably one of the most interesting memory and learning aids.
2. Doodling is a pressure-relieving outlet.
3. There has been research that shows that drawing and creating art is rewarding, beyond the cognitive benefits of concentration and memory — and the brain shows it.
Happy Teachers Day Card Idea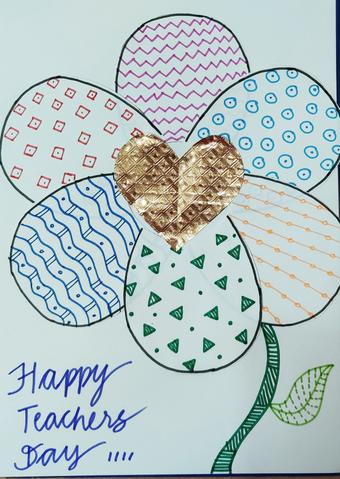 Material Requirements:
1. An Eraser
2. A sharpened pencil
3. Fine liner or black sketch pen
4. Colored sketch pens / colored pens
5. A scissor
6. Fevicol or glue stick
7. 2 A4 size sheets
8. 1 craft paper of different color/glitter/pom-poms
Watch the video to learn how to make the card:
Process:
1. Start by folding one A4 sheet into 3 halves, which we will further fold into another half.
2. Then draw a petal on the folded sheet and then cut along the drawn line.
3. Draw a semi-circle on the petal using the straight light of the petal as the base and then cut along the line. Giving your petals a semicircular shape which when joined will make a circle.
4. You should have 6 petals on which you will now make different patterns of your choice with colored pens, and then outline each pattern with a black sketch pen.
5. Once finished using the glue stick your petals onto the A4 sheet over-lapping the petals in a circular pattern giving it the look of a flower.
6. Complete your flower by drawing a stem and a leaf on one or both sides of the stem. You can fill the stem with a pattern if you like.
7. Finally using the craft paper, cut the shape of your choice, and paste it to the center of the flower.
8. Write a greeting to your teacher and wish them a Happy Teacher's Day.