By Vertika Tyagi:

I enjoy baking bread; I love getting my hands right into the dough and working it. I love the anticipation and watching it rise. I love the smell of baking bread. But most of all I love the taste, I can hardly wait for it to cool just enough to cut through, and take my first bite.  So perfect, so good.
A perfect morning calls for some exercise and a nutritious breakfast. Whether it is yummy breakfast recipes for kids or millet recipes breakfast, we are all looking for those minor tweaks to make food interesting.
This oats powder bread satisfies all those senses and desires. The bread is full of oats, good healthy, and yummy oats which are crusty on the outside and soft on the inside. Plus, every slice is filled with nutritious, whole grain goodness. Best of all, there's no yeast and no bread machine involved in making this oats powder bread recipe. 
Looking out for more recipes for baking bread? Click here
Why are we using oats powder in our bread?
Oats make a bread which is characteristically tender, moist, and just slightly sweet, the perfect foil for sandwich fillings. Also, this is 100 percent organic. There is no salt, no sugar, no additives, and preservatives. And most important it is a great source of fiber and easy to digest. We are also adding a pinch of cinnamon – the smell of toasted oats mingling with the heady aromas of cinnamon and melting butter — is enough to get anyone's day off to a very good start indeed.
Oats powder banana bread recipe
Ingredients: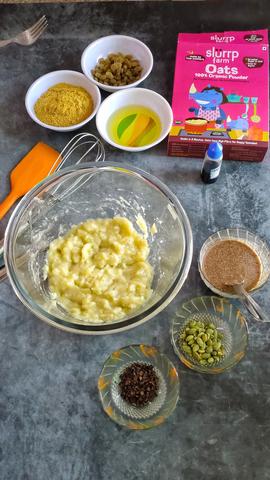 1. 3 Ripe banana
2. 1/2 Cup jaggery powder
3. 1/4 Cup oil
4. 2 Sticks cinnamon
5. One tbsp flaxseeds
6. 1/4 cup water
7. One tsp vanilla extract
8. One cup whole wheat flour
9. 1/2 Cup Slurrp Farm Oats Powder
10. One tsp Baking powder
11. 1/8 Tsp baking soda
12. 1/8 Tsp salt
13. 1/4 Cup raisins
14. Cacao nibs
15. Pumpkin seeds
Watch the video to make the delicious oat powder banana bread:
Method:
1. First, we will prepare the flax meal. Add cinnamon sticks and flaxseeds to the grinder and make a smooth powder. Transfer this powder to the bowl, add 1/4 cup water, mix well and keep aside for 10-15 mins.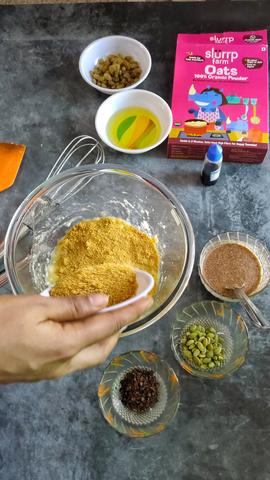 2. Into a deep bowl, mash the bananas using a fork.
3. Add jaggery and oil to the mashed bananas and beat well.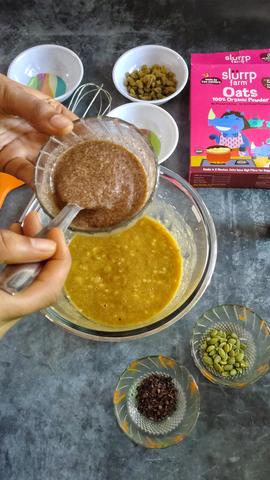 4. Now add flax meal and vanilla extract, mix well using a spatula.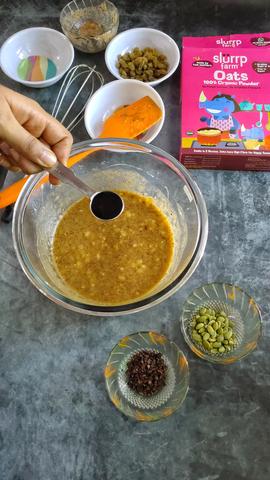 5. Sieve in the whole wheat flour and the oats powder.
6. Add baking soda, baking powder, and salt to the bowl.
7. Fold in the raisins in the flour with a light hand. Once raisins are coated in the flour, mix well to make a smooth batter. Use the cut and fold method to mix the dry ingredients into the wet ingredients.
8. Preheat oven at 180 °C and grease loaf tray with oil.
9. Transfer the batter into a loaf pan and top it with pumpkin seeds and cacao nibs.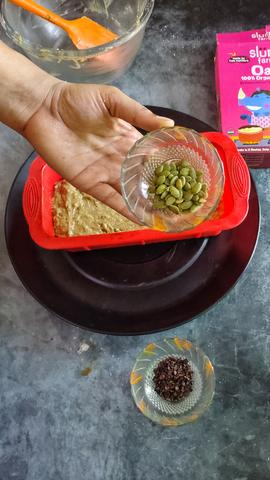 10. Bake for 15-18 mins or until a toothpick inserted comes out clean.
11. Let it cool for 10 mins, demould slice, and enjoy.
Are you not tempted to bake your own batch of bread? Share with us on our Instagram @SlurrpFarm