Rakhi is an opportunity to devour homemade, yummy desserts. Certain flavors and recipes are nostalgic. They evoke the innocence of childhood. One such being 'kheer.' My grandmother would make a hearty-healthy, wholesome meal that would always end with her (and our) favorite – Finger millet vermicelli kheer. And we would soon find ourselves with a growing appetite for indulgence, all over again.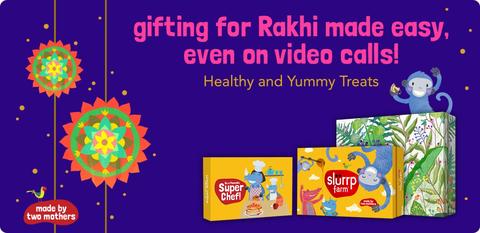 Do special festive days have a certain aroma that brings back good-old childhood memories? I suppose yes! Of hot puris, besan-ladoos, kesar homemade kulfi, gur ka sharbat coming straight from Grandma's heart and kitchen.
With Raksha Bandhan date 3rd August 2020 fast approaching, let's all gear up! So what if we can't step out to visit our loved ones? Let's do some good-old cooking and show-it off to our relatives during the virtual meet-ups?
Wear your aprons, don your chef hat because in this blog we are going to discuss Rakshabandhan's traditional dessert.
Quick and tasty recipe (made from scratch) that will leave little ones craving for more.
Finger millet vermicelli kheer: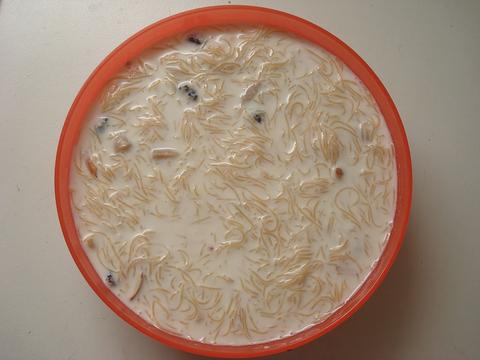 Ingredients:
1. One cup finger millet vermicelli (recipe for finger millet vermicelli – scroll down)
2. 1/2 Tsp Slurrp Farm 100% Organic Nut powder
3. One tbsp Ghee (clarified butter)
4. One cup water
5. Jaggery (as required)
6. Two cups milk (full-cream)
7. Cardamon powder (as required)
Finger Millet Vermicelli Kheer Preparation Method:
1. Boil milk in a thick bottomed pan
2. Roast nut powder and finger millet vermicelli in ghee separately
3. Boil milk and add roasted vermicelli and cook for 3 min. add jaggery and mix well.
4. When contents start boiling, add cardamom powder and dry fruits
5. Cool and serve Ingredients
How to make finger millet vermicelli (sevayi):
Ingredients: 
1. 2 Cups Slurrp Farm Sprouted Ragi Powder
2. 1/2 Cup rice flour
3. Salt – to taste
4. 4 Cups water
5. 2 Tbsp oil (preferably sesame seed oil)
Method:
1. Dry roast the Slurrp Farm Sprouted Ragi Powder for about 4-5 minutes until it is aromatic and heated all through. Dry roasting the sprouted ragi powder helps takes the sliminess away and helps take away the innate bitterness of the grain.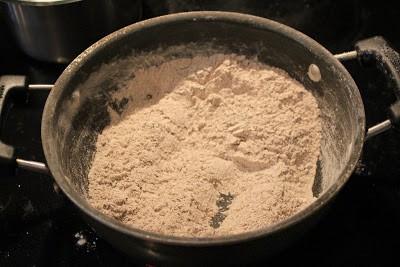 2. Also, roast the rice powder for a couple of minutes. It just needs to get warm and it need not change color.
3. Simultaneously, boil the water in a vessel. Take a little more than 4 cups as we might need more or less depending on the flour. Let the water come to a rolling boil. This stage is very important to cook the sprouted ragi and make it soft. So do not take out the water before it is boiling well.
4. Add the roasted sprouted ragi powder in a large bowl. Add the salt needed to the flour and mix well.
5. Slowly add the boiling water to the flour and mix it with a wooden ladle. Add little by little and bring the flour together.
6. Also, add the oil at this stage, and once the heat is a little manageable use your hands to make a soft dough. Make sure the dough is on the softer side and not too hard as it will be very hard to squeeze it out of the idiyappam maker.
7. Cover the dough and let it sit for about 10 minutes.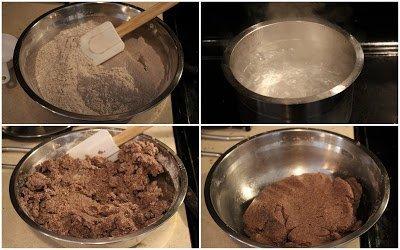 8. Grease the idiyappam maker with oil and also grease the steamer plates and keep them ready.
9. Add water to the steamer and heat it up so it is ready and simmering.
10. Take a ball of dough that will fit inside the idiyappam maker and then start squeezing out the vermicelli on to the steamer plate. If using idli plates, try to fit inside the idli moulds.
11. If the dough is breaking apart when squeezing it out, add a little bit more hot water and mix.
12. Steam the vermicelli for about 5 to 6 minutes. It will steam really quickly and does not need more than 6 minutes.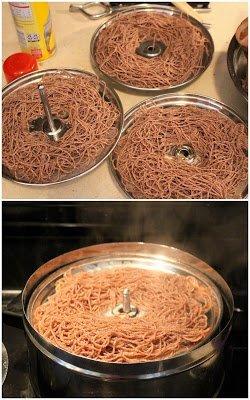 13. Let it cool a bit in the steamer plates and then take the batch out on a plate. Repeat the same with the rest of the dough.
Hope you enjoyed it. Do share your dessert/recipe with one or two original pictures to get featured.
This recipe has been extracted from the IIMR Recipe Book. It is a part of the initiative "Millet Recipes – A Healthy Choice" put together by ICAR- Indian Institue of Millets Research. The main force behind this program includes B Dayakar Rao, Vishala AD, GD Arlene Christina, and VA Tonapi.