I was fortunate to be introduced to the yummy and natural goodies that Slurrp Farm makes, when my son began eating cereals. These all-natural products made with super ingredients, do not contain any chemical preservatives. Their wide range of products including baby cereals, dosas, pancakes and other delicious goodies, have been a part of my household since my son was a baby. We have loved them and consumed them on a regular basis at home, but initially I was unsure about the ways of storing food for long periods of time, as they are all-natural. I am aware that a lot of new mothers face this dilemma too.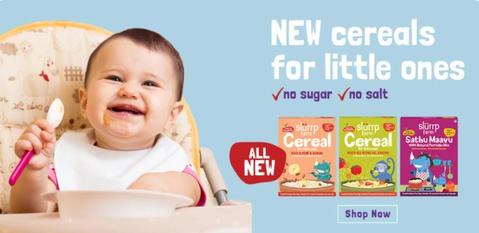 Shop from a wide range of what's best for your kids!
Fortunately, I found an ideal solution to my problem for storing food for long periods of time with Tupperware storage products because of their unique design and adherence to sustainable standards. Tupperware has been a tried and tested brand for years and has proved really handy to store my son's food as well. Tupperware's Mini Cubix containers are great for storage of cut fruits and vegetables and other ingredients while you prepare for a meal. They can also be used to store leftovers in the fridge or to carry food on the go. Their bright colors make them perfect to store snacks for your kids. The cherry on top is the special space-saving modular design, which makes them stackable and easy to store.
If you are confused about how to store Slurrp Farm products correctly, I address some of the common queries raised by mothers about their storage below:
How to Store Slurrp Farm's All-Natural Children's Food Products
Q1: Once a packet is opened, can we keep it at room temperature or is any other kind of storage required for it?
Ans: The basic principle for storing products with no chemical preservatives, is to keep the product away from moisture and air, to avoid attracting bacteria and mould. Slurrp Farm baby cereals, dosa and pancake mixes are free of all nasties, and need to be stored in absolutely air-tight containers, to keep them free of moisture and air. If the product has no nuts, it can be stored at room temperature in an air-tight container, for up to a month. The nut powders or products with nuts, however, need to be refrigerated in an air-tight container.
Q2: If unopened, what storage conditions are required?
Ans: If unopened, they can be stored at room temperature in kitchen cupboards and other kinds of storage cabinets but they must be kept away from direct sunlight.
Q3: If a packet is opened, do we need to transfer it to another container or can we keep it as it is and then store it?
Ans: Once opened, you can either keep the open pouch in the container or you can empty the product into the storage container and store it. However, you must bear in mind that the storage container is air-tight, such as the ones from Tupperware.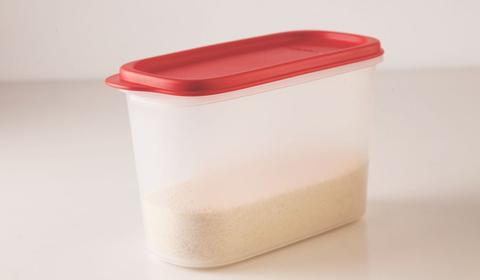 As mothers, we are constantly worried about our children's food and the proper handling and storage of their food products.
Q4: Is it necessary to put it in a zip-lock pouch? Or can it be transferred to a normal container and stored?
Ans: With Tupperware containers, there is no need for separate zip-lock pouches. Tupperware products are airtight with breathable lids on the containers, in order to keep food fresh for longer. Their modular design makes them stackable, which saves space in your kitchen or fridge, and they have convenient and large tabs on the lid to allow for easy opening. The smooth finish on their inside walls makes the containers easy to clean.
As mothers, we are constantly worried about our children's food and the proper handling and storage of their food products. I hope these tips have answered your doubts and queries, and encouraged you to switch to Slurrp Farm as a preservative-free and yummy food option for your children. In fact, their wide range of healthy bakes and newly-launched Indian mithais, paired with the bright and aesthetic Tupperware Mini Cubix containers, make excellent gifting options for Diwali. They are useful, sustainable and will be highly appreciated for their focus on being healthy.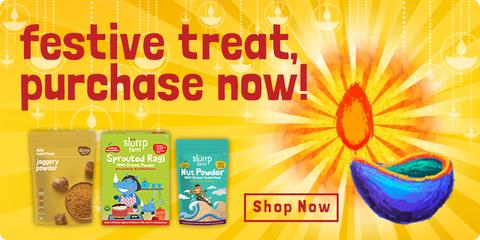 Noor Anand Chawla is a lawyer who pursued her passion for writing through her top-ranked lifestyle blog https://nooranandchawla.com/, and feature columns in various newspapers and online platforms. She can be found on Instagram as @nooranandchawla.