Approved by Dr. Arun Wadhwa, MD (Paediatrics) and child specialist
Getting your child vaccinated on time will help protect your baby against 'vaccine-preventable diseases'. Other than healthy nutrition and conducive surrounding to live in, proper vaccination is quintessential for a healthy lifestyle. Which vaccines does your child need and when? To provide you a clear idea of the immunization schedule, we have enlisted the mandatory vaccination chart for baby in India.
Many parents due to the fear of the COVID-19 pandemic have shown apathy in getting their children vaccinated. The outbreak of coronavirus disease 2019 (COVID-19) has brought with it fear and uncertainty. Do not be in doubt and do NOT delay the routine childhood vaccinations during the pandemic. There are umpteen other diseases that can be more fatal for the little one.
A specific chart of vaccination for India for children (as per the guidelines) has been prepared for you. We consulted one of the reputed pediatricians and came out with a printable chart (and record for you to maintain).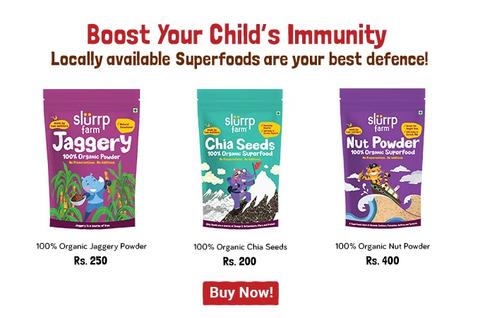 Vaccination chart for baby in India
The process of preparing the young ones to lead a healthy lifestyle begins right from the womb. You need to make sure that they are safe there. So for your healthy lifestyle, please do check the list of healthy food that you should consume during pregnancy.
Why Vaccination?
It's also equally important for you to understand the need for vaccination, and how it helps a child.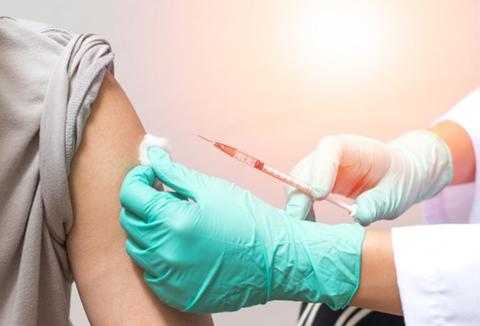 Vaccination (or immunization) is the process in which, vaccine (disease-causing microorganism made from weakened/ killed microbes) is administered to the child to generate immunity against the disease. In simple words, the body of the child, through vaccination, generates antibodies to fight the illness. Immunization, therefore, makes the body capable of resisting the effects of pathogens. Vaccination protects children from life-threatening diseases, in the first place and also from falling sick again. 
We have specified the list of vaccinations for India for children between 0 to 18 years.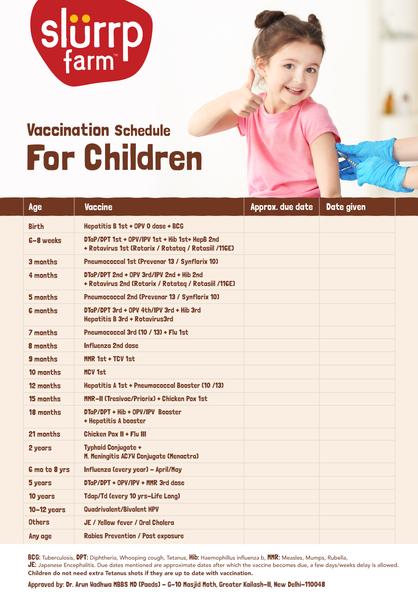 To maintain your own record, click here to download the free printable version
At Birth
Vaccinations: 
1. Hepatitis B 1st + OPV 0 dose + BCG
B.C.G (Bacillus Calmette Guerin) should be the first vaccine to be administered soon after a baby's birth. It protects them against the tuberculosis infection. It's wise to give BCG within the first few hours of the baby's birth.
The first oral dose of the polio vaccine (OPV 0 dose) and the first injection of Hepatitis B (Hepatitis B 1st dose) should also be given to the child at birth.
6 Weeks of age
Vaccinations: 
1. DTaP/DPT 1st + OPV/IPV 1st + Hib 1st+ HepB 2nd
2. + Rotavirus 1st (Rotarix / Rotateq / Rotasiil /116E)
The first dose of the injectable Pentavalent vaccine should be given at 6 weeks of age. This vaccine offers protection against Whooping Cough, Tetanus, Influenza, Diphtheria and Hepatitis B. All of these diseases (except Hepatitis B and Tetanus) are highly contagious. Therefore, it becomes imperative to vaccinate infants against them.
The first dose of the injectable polio vaccine should also be given along with the Pentavalent vaccine. Also the first dose of Rotavirus that spreads easily among infants and young children. The virus can cause severe watery diarrhea, vomiting, fever, and abdominal pain. Children who get rotavirus disease can become dehydrated and may need to be hospitalized. 
10 Weeks of age
The baby needs to be administered with a second dose of Pentavalent vaccine, PCV, and rotavirus vaccine. This is a 'booster dose', as the effect of the previously administered vaccine gets enhanced.
3-8 months of age
Vaccinations:
1. Pneumococcal 1st (Prevenar 13 / Synflorix 10)
2. DTaP/DPT 2nd + OPV 3rd/IPV 2nd + Hib 2nd
3. + Rotavirus 2nd (Rotarix / Rotateq / Rotasiil /116E)
4. Pneumococcal 2nd (Prevenar 13 / Synflorix 10)
5. DTaP/DPT 3rd + OPV 4th/IPV 3rd + Hib 3rd
6. Hepatitis B 3rd + Rotavirus 3rd
7. Pneumococcal 3rd (10 / 13) + Flu 1st
8. Influenza 2nd dose 
The baby of 3 months to 8 months usually requires second and third doses of  DTaP/DPT, OPV, Hepatitis B, Rotavirus, HiB, and at 3 months, he/she gets Pneumococcal vaccine that fights against the bacterium Streptococcus pneumonia. Their use can prevent some cases of pneumonia, meningitis, and sepsis. The vaccines might provide a temporary uneasiness to the child, including swelling and pain. These, however, do not cause any long-lasting, major health issues. So, under the expertise of pediatricians, there's no harm in administering these vaccines.
9-12 months of age
Vaccinations:
1. MMR 1st + TCV 1st
2. MCV 1st
3. Hepatitis A 1st + Pneumococcal Booster (10 /13)
Vaccines against infections like Mumps, Measles, Encephalitis, or Rubella, as per the requirements are to be administered to kids as they approach a year of their birth.
By the time the kids are a year old, they must be given all the prescribed vaccinations mentioned in the chart.
15-24 months of age
Vaccinations:
1. MMR-II (Tresivac/Priorix) + Chicken Pox 1st
2. DTaP/DPT + Hib + OPV/IPV  Booster
3. + Hepatitis A booster
4. Chicken Pox II + Flu III
5. Typhoid Conjugate +
6. M. Meningitis ACYW Conjugate (Menactra)
When kids turn 2 years old, they should be given a single intramuscular injection dose, of a vaccine called DPT (Diphtheria, Pertussis, Tetanus)
The children are also supposed to be given a booster dose of the oral polio vaccine, and an injectable vaccine called MMR (Mumps, Measles, Rubella). Please check the chart for month-wise vaccines.
5 Years onward
Vaccinations:
1. DTaP/DPT + OPV/IPV + MMR 3rd dose
2. Tdap/Td (every 10 yrs-Life Long)
3. Quadrivalent/Bivalent HPV
4. JE / Yellow fever / Oral Cholera
5. Rabies Prevention / Post-exposure
The vaccination, which would comprise booster doses of tetanus vaccine, measles vaccine, and diphtheria vaccine, Tdap vaccine is paramount for protection against diseases like tetanus, diphtheria, and pertussis (whooping cough). 
Human Papillomavirus (HPV) must also be administered to girls after 10 years of age.
We wish your young ones to lead a safe and healthy life; vaccination is the first key for the same. 
Post-vaccination care:
1. Cuddle time with your child.
2. Encourage your child to move the arm or leg that they received the vaccine in.
3. Put a cold cloth on the site of vaccination.